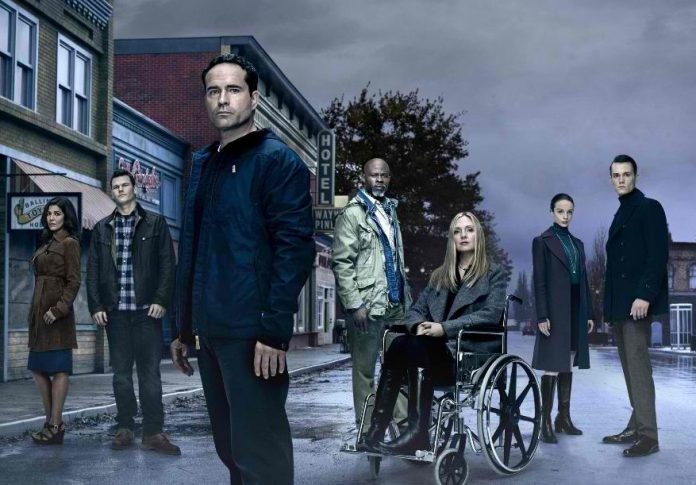 The second season of "Wayward Pines" ended with someone sacrificing herself in order to save humankind. Theo (Jason Patric) assumed the leadership of the town after Jason (Tom Stevens) died, and Theo and C.J. (Djimon Honsou) devised a plan to select some of the people to be cryogenically preserved to save what's left of the human race.
Theo wanted to stay behind and inject himself with bubonic plague, typhoid and Marburg, as he planned to expose himself to the remaining humans, and then feed himself to the rest of the Abbies in the hope of wiping out that race.
However, it was Kerry (Kacey Rohl) who volunteered to be injected with all three diseases, as she found out that her boyfriend Jason was actually the son she had given up for adoption before waking up in Wayward Pines.
After Theo, C.J., and some of the humans had been frozen, the scene jumped to the future, and it appeared that the Abbies had evolved to look more like human beings.
The show has yet to be renewed for a third season by FOX, and while the supernatural drama struggled in the ratings during season 2, Fox Television Group co-chairman/CEO Dana Walden said that she definitely thinks that there could be a season 3.
Speaking with reporters at the Television Critics Association summer press tour, Walden revealed (via TVLine) that the producers have presented a plan for a third season.
"[The producers] have a really compelling [plan] for season 3 that I liked very much," said Walden. "We're definitely talking about the show right now."
Walden also spoke about the future of the show at a network press party at Soho House in West Hollywood on Monday night. According to Philly.com, the CEO is hopeful about a third season and that they are going to sit down with producer M. Night Shyamalan sometime in the coming weeks.
"I know that he and Blake [Crouch, author of the trilogy on which the show is based] have some ideas for a third season," said Walden.