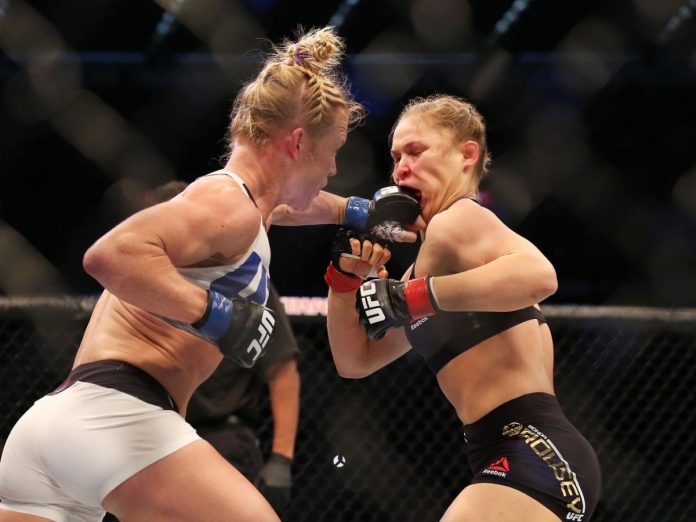 Mixed martial artist Ronda Rousey was stunned by a single head kick by Holly Holm in their much anticipated UFC match last month. Nobody saw it coming, not the fans, not even Holm, and most likely not Rousey. She was riding her career high, winning matches left and right without even batting an eye lash. She was even dubbed by ESPN as the greatest female athlete of all time, thanks to her unapologetic fierceness which resulted to victory after victory inside the caged fighting stage.
Now, Rousey is nursing one loss. There are numerous questions that need answers regarding where the 28-year-old athlete should head after her rehabilitation. As UFC Featherweight champion Jose Aldo said, it would be really hard for her to come back to fight again, and he is highly doubtful that she would return to the UFC scene.
Given the manner of her loss and her position before that high kick hit her jaw, it is easier said than done to just get back up and start for the second time. Then again, champions like Rousey don't get to their superstar status without putting up a fight.
In a separate interview with Holly Holm's mentor Mike Winkeljohn, the seasoned coach shared his sentiments regarding Rousey's situation saying that it will be a long road ahead of her if she decides to fight again. The 29-year industry veteran also confidently said that shall a rematch take place, he knows that the outcome will be the same as Rousey lacks in the boxing department, something Holm is comfortable in.
Howver, UFC President Dana White believes otherwise as he recently stated that a rematch for Rousey and Holm will be immediate. White talked to ESPN's morning radio show "Mike & Mike" and was quoted in saying, "I think that if we didn't make the rematch, me and [UFC CEO] Lorenzo [Fertitta] should probably lose our promoters' license. Yeah, that fight's going to happen. I don't know when, but that's the fight that will happen."