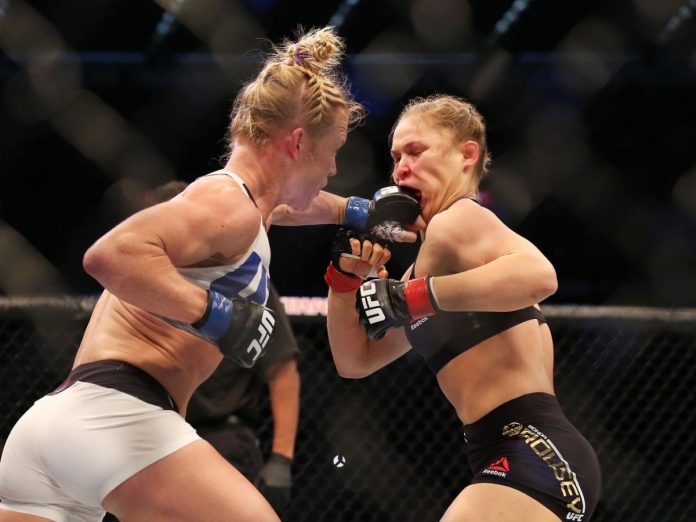 Since UFC 193 last year where former unbeatable Rhonda Rousey was knocked down by Holly Holm in the second round, rematch buzz has already started going around. In the past few months since November until now, UFC has also been vocal about setting up the octagon again for another Rousey-Holm fight, the hold up recently was because of Rousey's hectic schedule, filming a couple of movie projects.
However, if six-time Boxing Writers Association of America Trainer of the Year Freddie Roach is to be asked, he thinks Rousey should steer clear of Holm.
Roach talked to LA Times while in his famous Wild Card Boxing Club in Hollywood last Wednesday, and the 55-year-old coach shared his sentiments about Rousey going up against a former boxing champion in Holm.
"She can't just take her down because [Holm] not only knows kickboxing, she knows the defense to not be taken down," Roach said. "[Holm] proved it last fight. She only got taken down once, and she got out of that real quickly. She's a smart girl."
Having been in the boxing scene for a long time now, Roach knows a thing or two about the sport. He has trained champs like Amir Khan, Oscar De La Hoya, Mike Tyson, and Julio Cesar Chavez, Jr. but his arguably most notable champion is eight-time world division boxing champion Manny Pacquiao. Given his track record in the stand-up sport, would he take Rousey under his wings to hone the fighter's boxing skill? Roach said he "would like to help her," but it would take four to five years for her to achieve the boxing skills that Holm already has.
If Roach would start training the former champion, she would not be the first Mixed Martial Arts fighter who sought the help of the trainer. Canadian UFC fighter Georges St-Pierre also asked Roach to oversee his personal six weeks training camp. Roach also revealed that he just spent four days in Montreal to personally check on the welterweight champ. "He looked really good," Roach said of St-Pierre.