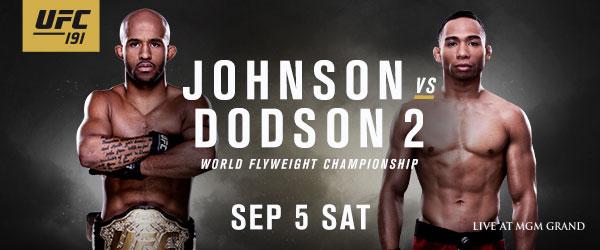 UFC 191 was an eventful fight night both in and out of Octagon as fighters celebrate their victories and eye their futures in the MMA.
For the main event, Mighty Mouse Demetrious Johnson retained his title via split decision against John Dodson, in a rematch fight after Johnson came out on top in the first fight. Johnson's victory marked his seventh straight successful title defense, a record in the Octagon.
Meanwhile, former UFC former Heavyweight champ Andrei Arlovski was able to prove that he still has what it takes to be successful in the Octagon after he won in a unanimous decision victory over fellow UFC veteran Frank Mir, known as one of the most skilled technical fighters in MMA. Mir, who was a former UFC heavyweight champion himself, was outscored by the Arlovski in the striking although he he was consistently trying to match his opponent in all three rounds.
The victory marks Arlovski's sixth straight victory in the Octagon since his return. There are talks that his long time rival Fedor Emalialenko may be signing with the UFC soon and this may prove to be a good chance to pit the two MMA vets against each other.
Other victors of the night include Anthony Johnson, Corey Anderson and Paige VanZant who also turned up impressive performances.
Meanwhile, former UFC title contender Josh Koscheck took to Facebook to criticize the sponsorship payout from Reebok to low rung fighters in its exclusive deal with the UFC for promoting merchandise, reported MMA Mania.
"Chicken feed, considering all these fighters will have early arthritis and shorter lifespan than normal people. They have no future, no retirement, no benefits, and NO Health Insurance. Oh they have training injury insurance because (The Company) can't make money off the fighters unless they are fighting. So let's fix them up ASAP and get the slaves back to fighting so WE (Company) can make billions while we pay the fighters scraps…Shame! Fighters Association. Ali act. When will these fighters stand up?" he alleged.