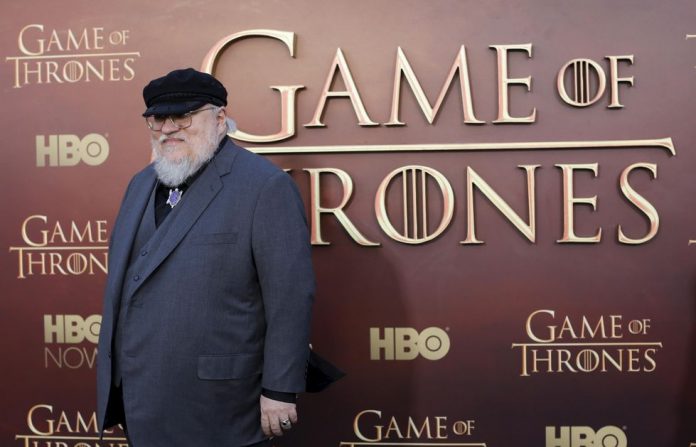 Despite numerous entries made on his personal blog, author George R.R. Martin remains tight-lipped when it comes to the much awaited release of his sixth novel in the "A Song of Ice and Fire" saga titled "The Winds of Winter."
Recently, the writer spoke up about the rumors that he has been spotted in this year's San Diego Comic-Con, which was attended by some members of the cast of the adapted TV series "Game of Thrones."
"Now, normally, I would not feel the need to post about where I'm not and what I am not doing… only I am getting reports from friends in San Diego, and friends of friends, that I have been sighted at the con. It's not me. Really. It's not. It's some other old fat guy in a Greek sailor's cap and pair of suspenders, maybe. Who may or may not be consciously cosplaying as me," he clarified.
Martin said that never in his wildest dreams did he imagine participants dressing up as him when the show first started airing, but he noticed that more people seem to be doing it nowadays. He also posted a picture of his 2013 trip in Australia where he met a very similar looking fan.
"Anyway… just for the record… I have a big Wild Cards event at the Jean Cocteau Cinema this weekend, with nineteen writers turning up from all across the country, so as much as I would like to be at comicon, I am not there. Accept no substitutes!!" he added.
When it comes to his anticipated book, speculations continue to circulate online among fans particularly saying that "The Winds of Winter" may be announced at the upcoming 74th World Science Convention in Kansas City that takes place from Aug. 17 to 21. However, Martin set the record straight on his blog and shut down the theory.
There are also rumors that he may possibly drop the sixth book simultaneously with the seventh book, "A Dream of Spring," but it remains to be seen if this comes to fruition. As fans wait, they may first tune in to updates regarding season 7 of "Game of Thrones" slated to air during summer 2017 on HBO.