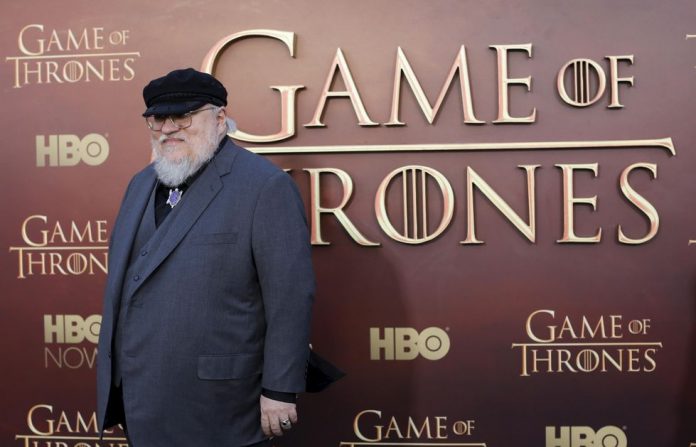 "A Song of Ice and Fire" creator and author George R.R. Martin has yet to release the latest book in the series, "The Winds of Winter," or much less a new chapter from it. However, fans were able to somehow "leak" out an unreleased chapter from the book, all based on an old image of the author dating back two years.
With years and years' worth of waiting time behind them now not to mention the indefinite amount of waiting time they are bound to endure for the upcoming latest installment dedicated fans of Martin's book series have become detectives, combing over a snapshot of the author working in his office. Recently, fans were able to decipher what appears to be a new chapter from the novel in the making, following a previous show appearance of the author dating years back.
In a report by "A Song of Ice and Fire" fan blog Winter is Coming, the attention of fans were brought back to an appearance that the author had made two years ago, specifically during John Oliver's "Last Week Tonight" show in June 2014. In a screenshot from a clip of the show, fans were able to extract at least a part of the chapter that Martin had been working on during the said appearance.
In a joint effort of dedicated fans of the book series over at Reddit, the said screenshot was brought to a number of photo manipulation attempts, including inversion of colors, and zooming in on a certain part near the computer screen, in order to decipher what the author is working on.
The result could not be considered as a full and readable chapter, but at least fans would be able to get the gist of it, that this is an Asha chapter, presumably following the released Theon chapter from the book.
"…of the Lord Reaper of Pyke…, Ahsa thought, as she…of the…

…leader of the…wore sellsword plate and mail,…of…. The…of the…fashioned in the shape of the Twin Tower of House Frey…standard of King Tommen…

The…brandished a bloody head impaled upon the point [of a] tall spear. The old man's head…, [white-bearded?] and…

The…, a pale [wolf?]…along…[some word like hadn't or couldn't… there's an apostrophe]…

[italicized words], Asha knew. The old northman had fought…, …. Perhaps…[word with apostrophe]…"