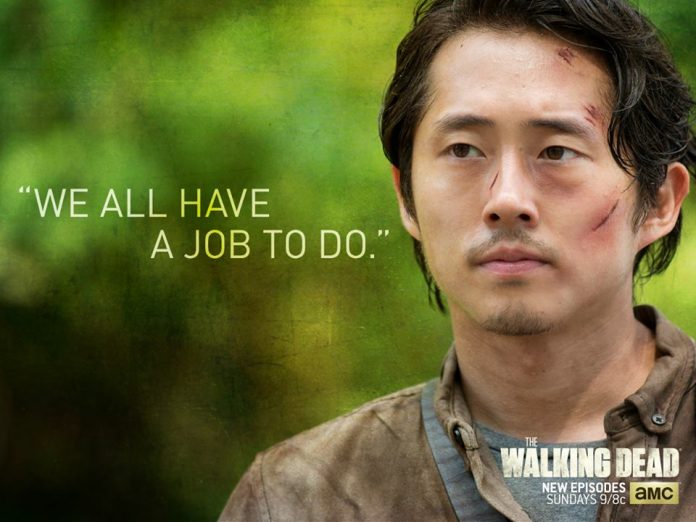 Weeks after "The Walking Dead's" heart pumping cliffhanger, fans of the show continue to scour the internet for any lead on who was killed by Negan's (Jeffrey Dean Morgan) deadly bat swing.
While the AMC show has time and time again proved that no one is safe from death in every season's shocker, there were a couple of frontrunners who are touted to exit "The Walking Dead" last season. After the penultimate episode, Daryl (Norman Reedus) was in a pretty bad shape suffering a gunshot courtesy of Dwight (Austin Amelio).
For a week, fans did not know whether the bow-wielding character would see the light of day. Fortunately, Daryl was able to reunite with his fellow Alexandrians but they were captured by the Saviors camp. Before Daryl's big shocker in season 6, all fingers were already pointed to Glenn (Steven Yeun) as the casualty just like how it went down in the comics.
Recently, theories leaning on Glenn's death are slowly building hype again with Yeun's seemingly quiet casting on the star-studded Netflix movie titled Okja. The Hollywood Reporter broke the news that the South Korean actor will be joining Tilda Swinton, Jake Gyllenhaal, and Paul Dano who are already on board the project.
While it is not unusual for an actor to work on multiple projects at once, the tricky part in Yeun's situation is the filming schedule. The film kicked off production last April 22 and will be travelling to South Korea, Canada, and the U.S. to film some scenes. Meanwhile, "The Walking Dead" season 7 is scheduled to assemble its cast and resume filming on May 2.
Some fans speculate, however, that since Yeun joined the project late, his role would probably be just a small one in which he could still balance both "Okja" and "The Walking Dead"
In other news, TV Line divulged that the zombie-apocalypse show is also in the process of casting the role of Augustus who looks like a character based on Ezekiel. In the Robert Kirkman comics, Ezekiel is a self-proclaimed king of The Kingdom who keeps a pet tiger named Shiva. Eventually, Jesus introduces Rick to Ezekiel and together, they fight Negan.
"The Walking Dead" season 7 is slated to come back this October.