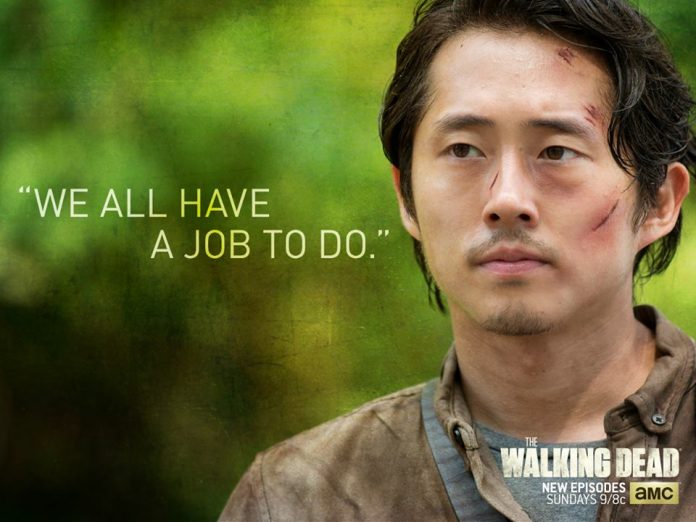 "The Walking Dead's" latter half of season 6 promised a lot of things to look forward to, and fans are both in anticipation and reluctance to see what will happen just before the curtains of the current installment close.
One anticipated plot is the arrival of the new villain, Negan (Jeffrey Dean Morgan). Since it was confirmed that the Savior's leader will finally be introduced this season, die hard followers have been closely monitoring how close the TV adaptation will be of the comic book character. In the original story, Negan's arrival signals the end of one of the most well-loved characters in the show, Glenn (Steven Yeun). However, while the other cast members have been continuously building up anticipation on the season finale, hinting that something so devastating will happen, Yeun, on the other hand, seems to take it in a different manner.
On his sit down with Entertainment Weekly, the South Korean-born actor expressed his excitement instead with the arrival of Negan.
"We've been waiting for this person for a long time, and in the comic books, he in a way brings a level of stakes that are kind of unmatched. And so, for me, for Negan to come into the show is, to say nothing less, f****** awesome," Yeun said.
"I know people are going to always go, 'Negan kills Glenn in the comics,' but rest assured that we don't necessarily do what's in the comics," he added. In the source material, Negan and Glenn had a bloody battle before the former hit the latter's head with a baseball bat so hard that it shattered his skull and killed him.
"There's a clear divide in the way we tell a story on television, and the way that story is told in the comics, because it has to be. And everybody will have to see what happens, but we definitely tell our story in the way that television should be told," Yeun further revealed.
If Glenn will not be the next casualty in the show, a report by UPROXX speculated that Daryl (Norman Reedus) might be it. The claim was based on the theme song of the season finale, which will be "This Ain't The End" by Maya Lavelle. Its lyrics say, "Darling, I'm in the garden, drinking bourbon. Please come to me." Moreover, the recent citing of Emily Kinney on the set as Beth was speculated to mean that Beth will appear in a vision talking to Daryl and asking him to join her instead.