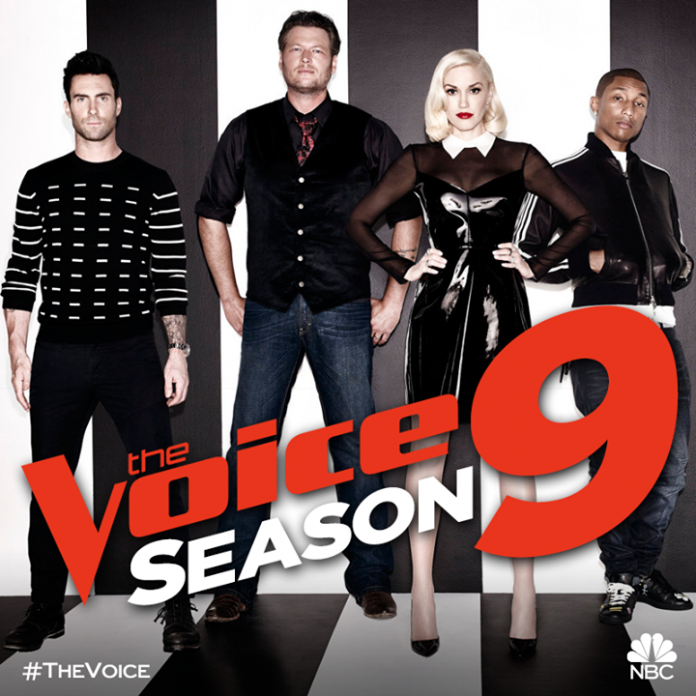 As The Voice Season 9 prepares to air, the coaches are becoming even more pumped about the fresh new talent that is coming in, and as usual, coach Blake Shelton is not letting up on the fact that he beat his good buddy and show rival Adam Levine last season.
In turn, Adam, with his freshly shaved head, is trying to steal country artists under Blake's nose and already successfully managed to convince one young country hopeful to join his team in the first round from siding with the Nashville superstar.
"He'll pick 'em, even though he doesn't really want 'em. He just doesn't want me to get 'em. It always amazes me when country artists fall for it!" Blake said in a Billboard interview.
Could Blake be referring to Arkansas teacher Barrett Baber whose rendition of Angel Eyes impressed all four coaches making them turn their seats?
"I'm trying to pioneer a new sound maybe, in country music, with some soul. There's some really great music out there, but I think there's a place for me, for this voice," Barrett explained his type of music in the preview, reported Access Hollywood.
<iframe src="https://www.youtube.com/embed/9Tj2xslr0Yc" frameborder="0″ width="620″ height="367″>
Gwen Stefani is also back as coach Christina Aguilera takes a break for the season. With more experience this time, she expressed excitement about the different types of artists that will come into the show.
"Before Season 7, I never even knew at all what I was doing. I just kind of showed up and was like 'Whoa. This is so amazing.' This time I feel like I know what to expect and now I'm looking for different things," she said.
The Voice Season 9 will also get support from music advisors Rihanna, Selena Gomez, and Missy Elliot.