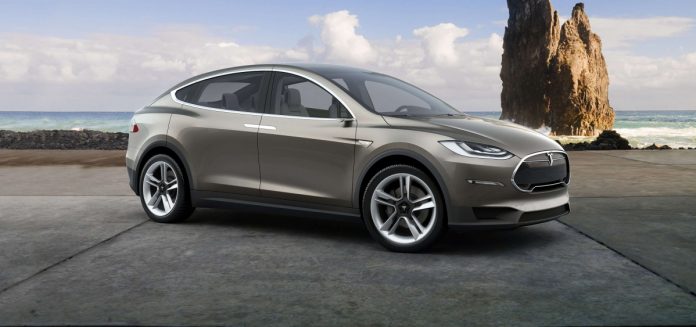 Tesla chief executive officer Elon Musk puts the focus of car enthusiasts on his company's first ever crossover utility vehicle, "Model X."
Musk took to Twitter to announce some important details for the buyers saying, "With same options, Model X is $5k more than an S due to greater size & body complexity. Sig Series is fully loaded, hence high price," and followed it with, "First production cars will be handed over on Sept 29 at our Fremont factory."
According to Forbes, the "Sig Series" refers to Signature Series that feature autopilot for self-parking and lane steering. It also has Smart Air suspension equipped with GPS memory, heated and cooled leather seats, and second and third row of foldable seats for more rooms. The report added that a unit will start selling at $132,000 with the option to add "Ludicrous Mode" for $10,000 to upgrade speed with zero to 60 miles per hour range in just 3.2 seconds from the normal 3.8 seconds.
Under the hood, it packs a 90 kilowatt-hour batter, while for performance, it has an estimated EPA range of 240 miles and top speed of 155mph. It also comes with the standard equipment such as built-in sensors for Falcon Wing doors, rear accessory hitch mount for bike and ski carriers, free long distance travel, parking sensors, blind spot warnings and automatic emergency parking.
Musk also commented on their smaller and lower cost sedan, Model 3 stating that its production will begin in about two years, with "Fully operational Gigafactory needed."
Officially described as, "Every Model X comes with all-wheel drive standard, powered by two independent, digitally controlled electric motors. Brilliantly functional Falcon Wing rear doors fold up and out of the way to allow easy access to third row seats," the vehicle can now be pre-ordered. It is slated for delivery in early 2016.