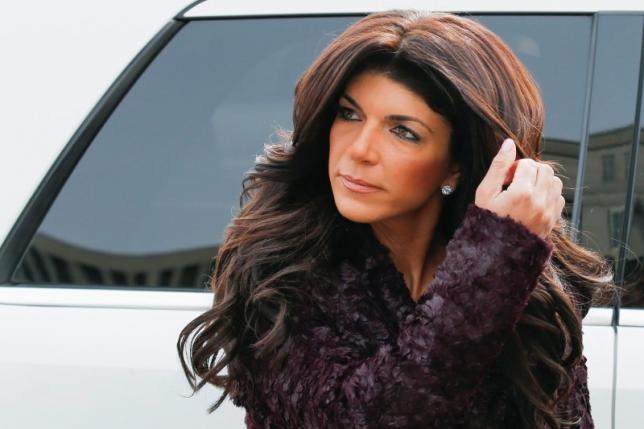 "Real Housewives of New Jersey" star Teresa Giudice released a memoir of her jail imprisonment in a tell-all book.
The book titled, "Turning the Tables: From Housewive to Inmate and Back Again" depicts the 43-year-old's experience at the Federal Correctional Institute in Danbury. Teresa was sentenced to 11 months in jail for loan and bankruptcy fraud and was released in December.
New York Daily News reported a few excerpts from the book where the mother of four detailed going through a strip search (she was ordered to squat and cough) and inmates having lesbian sex.
"I wanted to die," Giudice wrote of her jail experience with other inmates calling her by the nickname "Hollywood."
The awkward situation started on her second night just as she was done with her nightly prayers two of her five inmates were having sex inside a cell they shares, which they callws "The Boom Boom Room."
"I could see two women… writhing around… I cannot believe this is happening!" the reality star wrote.
The 261-page book was based on her prison diary where she wrote about getting sex tips from fellow inmates and women exchanging sex for money.
Teresa spent her jail time reading the book "The Secret" and exercising for six hours daily.
The other inmates didn't influence Teresa to try lesbian sex for herself, saying that she only fantasized about her husband.
"Madonna mia, I was dreaming of my husband," she wrote.
Her glamorous life continued behind bars by commissioning a jail tailor to make her own prison garb and asking her inmates to give her manicure, pedicure, and massages.
Her husband, Joe, who will also face 41 months in prison with the same lawsuit, gave her a $126,000 Lexus upon her release.
Joe and Teresa share four kids: Gia, 15, Gabriella, 11, Milania, 9, and Audrina, 6.