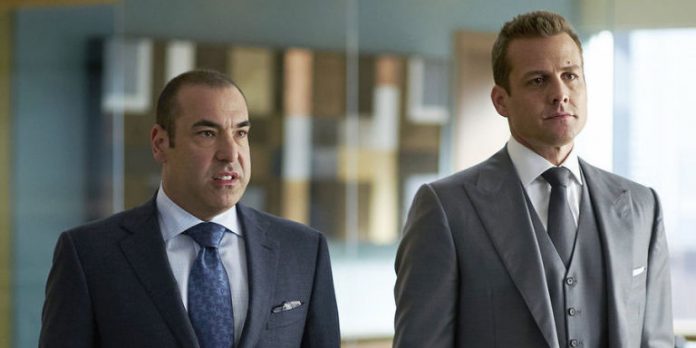 Harvey Specter (Gabriel Macht) and Louis Litt (Rick Hoffman) have confirmed the date of their comeback post-Jessica Pearson (Gina Torres) era in the latter part of "Suits" season 6.
The Pearson Specter Litt law firm will return from its midseason hiatus on Jan. 25, 2017, reclaiming its original Wednesday time slot of 9 p.m. ET. The announcement was made by USA Network on Thursday, Nov. 3, delighting "Suits" fans.
"Suits" left Harvey and the rest of the show's game players in a bit of a limbo with the shocking revelation that Jessica had decided to leave the firm that she worked so hard to build. Behind the scenes, this coincides with Torres leaving her post citing personal reasons. The Aaron Korsh-created series has been filming in Toronto for the last six years and the actress's home is in Los Angeles which made it difficult for her to spend quality time with her family.
"Leaving the show was indeed a difficult decision to make," Torres stated in an exclusive interview with USA, regarding her departure from the series that she has been a big part of in the past five-and-a-half years. "However at this time, it is necessary to get back to my life and all the very important things that being on location in Toronto made very difficult to manage."
Narrative-wise, after Jessica took a pro bono case, as asked of her by Rachel Zane (Meghan Markle), she began to reassess her life and priorities. She then decided to leave the corporate law world as she went with old flame Jeff Malone (D.B. Woodside) to Chicago.
Nevertheless, both Torres and Korsh have hinted that it will not be the last time fans will be treated to the wits and class of Jessica Pearson.
"Having said that, I don't believe for one second it's the last we'll see of Jessica Pearson. Not. For. One. Second. And don't you either," Torres teased.
Korsh chimed in with, "Gina is part of the 'Suits' family, and she can come back whenever she wants. As I said to her recently, she is a rare combination of talent and class and I would go to war with her any day of the week and twice on Sunday."