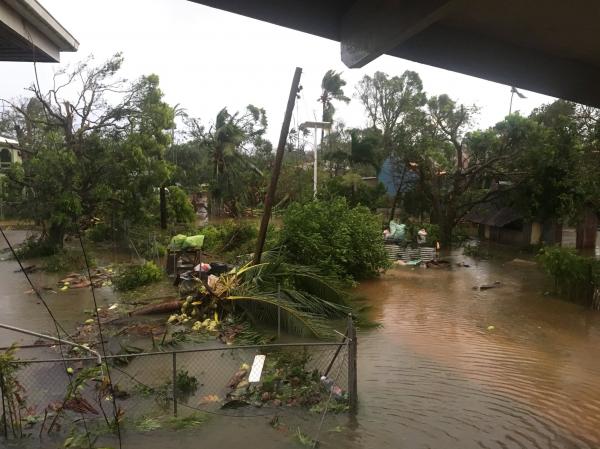 The islands of Tonga in the South Pacific were devastated by Tropical Cyclone Gita, considered to be the worst storm to hit the kingdom in 60 more than years.
The storm, which is the strongest to hit the islands since modern records began, caused massive flooding and left large parts of Tonga without power. It also flattened many buildings and structures, including the country's parliament building, which is over 100 years old.
The cyclone first made landfall at around 8 p.m. Monday, before hitting Tonga's main island of Tongatapu between 11 p.m. and 2 a.m. local time. At its peak, Gita carried winds of up to 230 kilometers per hour (kph) and gusts of up to 280 kph.
According to Graham Kenna from the National Emergency Management Office of Tonga, the damage caused by the storm was severe and widespread. "I've been involved in disaster responses for 30 plus years and it's the worst situation I have been in," Kenna said.
Tonga is made up of over 170 islands, and it is located in the South Pacific Ocean to the east of Fiji and North of New Zealand. Around 110,000 people live in Tonga, the majority of which reside in Tongatapu. The damage on Tonga's outer islands has not been fully assessed, as information from there was slow to obtain.
Tonga's government declared a state of emergency before the storm hit, setting up evacuation centers which housed thousands of people overnight.
"The wind was terrifying," said witness Mary Fonua. "It was roaring overhead. We could hear roofs being lifted. I could see the people across the road, their roof was flapping around the house, it was trying to disintegrate. I think a lot of people were very desperate last night."
New Zealand has released NZ$750,000 in emergency relief funding for Tonga and has said that its defense force is standing by to provide assistance to the islands as soon as the Tonga government specify the assistance it requires.