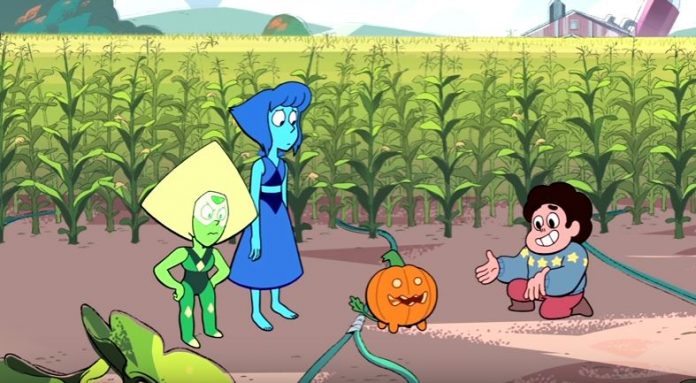 Last weekend, "Steven Universe" creator Rebecca Sugar and the cast of the hit Cartoon Network series were at New York Comic Con to talk about the show and to spill some choice spoilers about Steven and the Crystal Gems. The animated series is currently in its fourth season, and though it has been weeks since viewers got a new episode, Sugar gave fans something to look forward to as she released a sneak peek of the upcoming episode titled "Gem Harvest."
The clip starts with Steven and Peridot running through a corn field, and he asks her to slow down. When they emerge, Steven is wearing a blue sweater instead of his usual pink shirt, which suggests that the weather is turning colder in Beach City.
"We did it!" Peridot exclaims, gesturing to Lapis who is standing in a pumpkin patch. One of the pumpkins starts barking like a dog as it jumps up and down, and Peridot tells Steven that she guesses that he doesn't know how vegetables work after all.
Peridot approaches the pumpkin and frees it from its vine, telling it that it could help them harvest "the rest of your kind." However, the pumpkin appears to have other ideas as it goes to Steven and begs him to play.
Steven sheepishly says that the pumpkin-dog might have smelled the treats in his pocket, and Peridot says that it doesn't make sense since they created the creature and it should listen to them. Lapis said that the pumpkin just came alive and already it doesn't like them.
Later, Steven comes clean and tells them that the reason why the pumpkin-dog keeps coming to him is because he's the one who made it. Lapis and Peridot glumly say that their ordinary pumpkin doesn't have a face, and Steven tries to make them feel better by teaching them how to make a Jack-o'-lantern. This horrifies the pumpkin-dog and it jumps into Lapis' arms, which made the two Gems very happy.
A premiere date for the episode has yet to be announced, but it was reported that "Gem Harvest" will air in November on Cartoon Network.