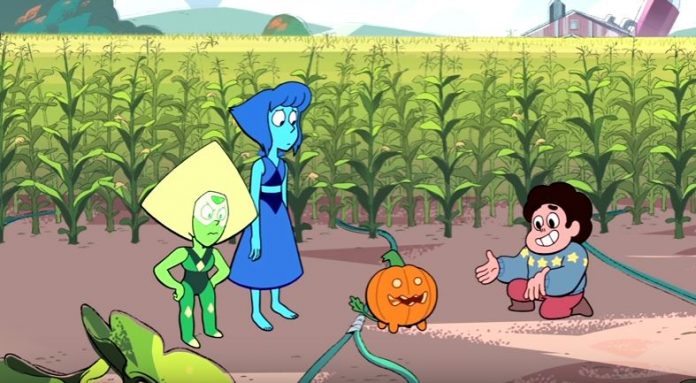 The "Steven Universe" crew were at New York Comic Con last week to preview what's next for Steven and the Crystal Gems, and show creator Rebecca Sugar also debuted a new song which will be featured in an upcoming episode of the hit Cartoon Network series.
Fandom detailed some of the highlights from the "Steven Universe" panel, revealing that at one point, Sugar brought out her ukulele to preview an upcoming song titled "I Could Never Be Ready." The song was sung as a duet between Sugar and Tom Scharpling (Greg Universe). In a video taken at the convention, fans can be heard cheering after the performance.
"You're so talented," said Scharpling to the show creator. "Why can't I be talented like you are? All I do is yell." An audience member called out to Scharpling and said that viewers love his yelling, and the voice actor thanked the fan, to the amusement of everyone in the panel.
It has been weeks since the show aired a new episode, with episode 7 titled "Onion Gang" having aired in September. However, it was revealed at the NYCC panel that the show will return in November for a half-hour special titled "Gem Harvest," which will put the spotlight on Peridot and Lapis as they grow crops, believing that this is similar to the way gems are grown. Steven helps them bring the crops to life, and his effort yields a pumpkin which barks like a dog.
In the promo for the episode, the pumpkin-dog takes an instant liking to Steven, much to the Gems' disappointment. When they point out that their pumpkins don't have faces, Steven tries to cheer them up by showing them how to make a jack-o-lantern. As he carves the pumpkin, the pumpkin-dog is horrified and gets away from Steven.
Sugar also revealed that an upcoming season 4 episode will be titled "Three Gems and a Baby." No other details were given, but it was said that Sugar's duet with Scharpling will be featured in the episode.
"Steven Universe" returns to Cartoon Network in November.