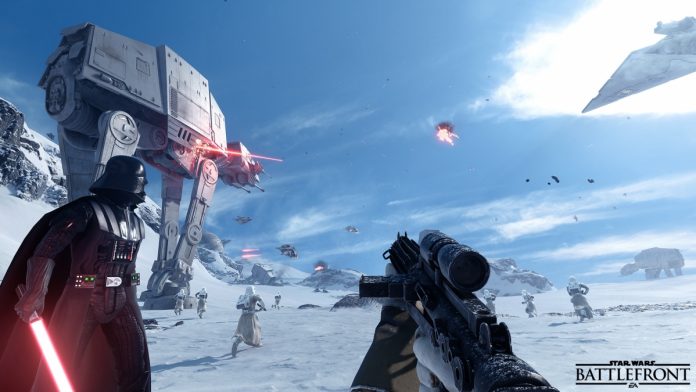 There are a couple of significant developments regarding the hit video game "Star Wars Battlefront" which were released over the course of the week including the announcement of an offline mode as well as brand new downloadable content (DLC).
Media outlet IGN reports that Electronic Arts (EA) has just recently pulled down the curtains on their plans for the title for the next few months, starting with the confirmation of the much-requested offline mode titled Skirmish. The new setting will be available next week, starting July 21.
Skirmish will allow players to enjoy "Star Wars Battlefront" even without internet connection via going head-to-head against bots or even with a friend using the split screen capability. To those who are however still skeptical about the entertainment level that the forthcoming feature will bring, it also comes with varying difficulty levels coming in two categories Walker Assault and Fighter Squadron.
A couple of months after Skirmish launches, a third expansion pack for the title is also set to debut. Dubbed as Death Star, the DLC will introduce new maps, both on ground and in space, to explore. New weapons as well as new Star Cards will also be available. Aside from brand-new things to play with, two new "Star Wars" characters are said to be finally be making their debut in the video game. And if fans think that all of their favorites are already available in the game, EA teases that the upcoming two will be special with a tease saying that one is a "larger-than-life character we know you've been patiently waiting for."
The add-on will be free of charge to Season Pass holders as the package includes four DLCs in total. To those who have not yet gotten their passes, the new content can be purchased separately come September.
After all the expansion packs are rolled out, a sequel game is almost confirmed given the success of the game's debut iteration. Should the good reception from the public continue, it seems that the 10-year collaboration between Disney and EA will continue to tap on the gamers market via "Star Wars" themed video games.
"'Star Wars' has been a phenomenal business partnership for us. It truly has and I think in ways that we didn't even anticipate when we originally signed the deal," EA global publishing director Laura Miele told gamesindustry.biz recently. "Some of our 'Star Wars' experiences, I know we can't announce yet, but there will be new characters and new story lines, which will be part of 'Star Wars' canon as it goes forward."