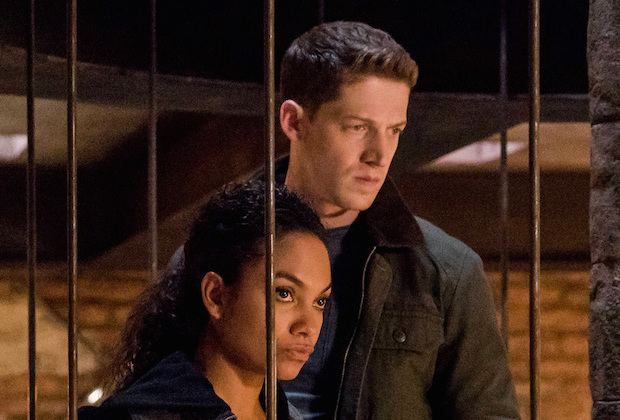 "Sleepy Hollow" gears up for a big season 3 finale, which could also be the last outing for the supernatural series.
The FOX supernatural show has pulled out an unexpected twist last, which fans could have passed as just an April Fool's prank. In the episode titled "Delaware," Joe (Zach Appleman) reached his end as The Hidden One turned him into a wendigo. What was more heartbreaking was that it was Jenny (Lyndie Greenwood) who had to shoot him on the chest in an effort to save the life of Ezra Mills (James McDaniel). Loyal followers of the show know that Joe and Jenny are just starting to get their stride since becoming a couple in the show.
"Joe doesn't blame Jenny for it. I had a couple of lines to her before I died, which were, 'I love you,' and, 'It's okay,' and, 'You had to.' I think that's the important thing in those last moments for Joe," Appleman told Entertainment Weekly on how Joe's exit seem to be a little bit more distressing given it was Jenny who pulled the trigger.
Moving on to tonight's episode of the show titled "Ragnarok," Abbie (Nicole Beharie) and Crane (Tom Mison) will finally find a way to put the pieces together for the Pandora Box, while the others try to contain the The Ancient One.
The official synopsis for "Sleepy Hollow" season 3 finale reads, "After a startling discovery, Abbie and Crane realize what they must do in order to make Pandora's box complete again. Meanwhile, the team works tirelessly to stop The Hidden One, before he destroys all of humanity. Can the Witnesses succeed with the fate of the world in their hands once again?"
Interestingly, the season ender is titled "Ragnarok" which is a term in Norse mythology that means a set of future events that can either lead to a major death or worse, the end. The title can either mean the end of season 3 or the end of the series althogether as until now, the future of the show is still bleak. Deadline, however, reported that there is a high chance that FOX will be ordering another serving of the show, it is only a matter of time when they are going to announce it.
The "Sleepy Hollow" season 3 finale episode airs tonight on Fox at 8 P.M.