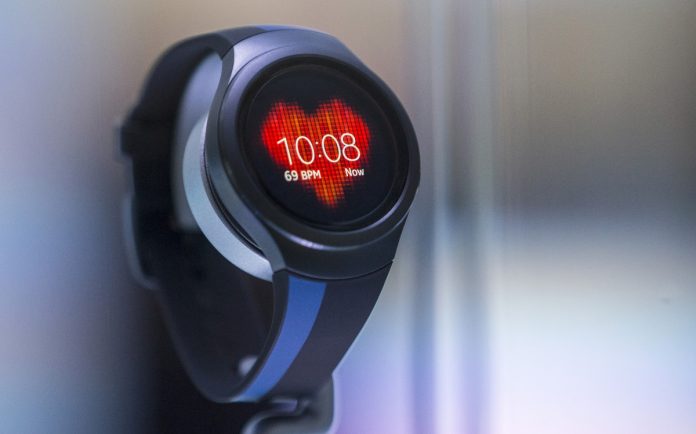 The Samsung Gear S2 was announced at IFA 2015, welcoming the new generation of smartwatches, just in time for the upcoming holiday season. Samsung went ahead of Apple by 18 months, launching six different smartwatches in 2013 and 2014 before the release of the Apple Watch.
The Gear S2 is the slimmest, most compact wearable from Samsung so far and has the appearance of a traditional watch. Users can choose from three different versions. The Gear S2 comes with casual rubber strap and has a minimalist design. On the other hand, the Gear S2 Classic is equipped with a dressier black leather band. Lastly, users can opt for the 3G-enabled version, which provides the wearer with the option to make and receive calls without having to use a separate mobile device.
The Gear S2 also differs from the rest of the smartwatches in the market because of its round shape and turnable bezel, allowing users to easily scroll through applications simply by rotating the watch's frame. Set on a 1.2-inch 360×360 pixel display, the main menu is arranged in a circle, so turning the dial lets the user move through options. It also serves as a dial for zooming in or out when using applications such as Maps. The Apple watch's version of the rotating bezel is the Digital Crown, which is installed on the side of the four-sided watch face.
Like most of Android watches, it has an automatic ambient mode so users can just glimpse at the face to check the time. The Gear S2 offers a variety of watch faces to choose from. It also has more informative, dynamic faces that can show quick notifications that lets the wearer send responses to messages with emoticons, short replies, or voice-dictated text.
Unlike the previous models, the Gear 2 is compatible with any phone running on Android 4.4 or later. Pairing the watch with a Samsung phone makes features such as Samsung Pay accessible. Samsung aims to have 1000 applications downloadable once the watch is launched. The watch arrives with 4GB of memory, a dual-core 1.0 GHz processor, and uses the Samsung Tizen operating system. Wi-Fi and Bluetooth support are also available.
As for battery life, Samsung claims that the Gear S2 can last two to three days between charges. It also has a magnetic wireless charging dock installed. Athletes and health conscious folks will be delighted to learn that the Gear S2 also comes with sensors such as an accelerometer, a gyroscope, a heart rate monitor, an ambient light sensor, and a barometer. S Health and Nike+Running will also be available for the watch.
According to International Business Times, the Gear S2 will cost around $350. No official release date has been announced.