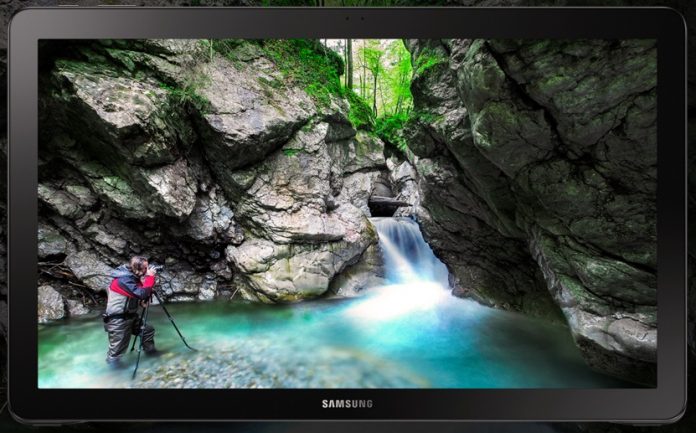 The long rumored massive tablet from Samsung is now official.
Recently unveiled by the South Korean company, the Samsung Galaxy View is now available for pre-order for $599.99 and will be available for purchase starting Nov. 6. Currently available is the Wi-Fi version of the device.
The Samsung Galaxy View, although probably not a new thing to people who are regulars on the rumor mill, has a massively huge display of 18.4 inches with a 1080p full HD resolution. The device itself is 10.86 inches tall, and 17.79 inches in width, making it the biggest Samsung Galaxy tablet to date thus far.
Samsung markets the new Galaxy View not only as a tablet device but more of a home entertainment system. As the company describes the Galaxy View:
"The Samsung Galaxy View is home entertainment reimagined an interactive and immersive viewing experience in a sleek, portable design, so you take in every moment from any room in the house."
With the built-in handle and dock on the back panel of the device, the Galaxy View can be easily brought around anywhere, without the worry of having to grab a massive device on its whole. The handle also has a built-in dock that can be used as the stand for the device.
The Galaxy View runs under an octa-core Exynos 7580 chipset, with a 1.6 GHz CPU frequency. It packs 2 GB worth of RAM along with 32 GB of built-in internal storage. The device supports an external microSD expansion.
As for the camera, the Galaxy View only has one camera, a 2.1-megapixel front facing shooter with an F2.2 4x Digital Zoom feature, and can record videos in 1080p full HD resolution.
It boasts a high capacity battery a 11.3v Li-Ion battery of 5700 mAh and allows 8 hours of music playtime, and Internet usage and video playback of up to 8 hours, too.
The device supports Wi-Fi and Bluetooth 4.1 connectivity features. The Galaxy View boots on Android 5.1 Lollipop and comes in color Black only.