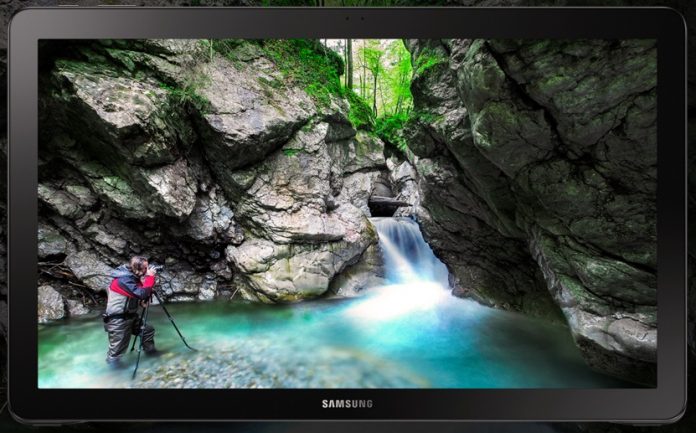 Korean tech giant Samsung has finally unveiled the official specs of their new device, the Samsung Galaxy View. Measuring a total of 18.4 inches, this device is literally a big addition to the Samsung family.
Based on the review posted by PC Mag, the Galaxy View should not be looked at as a tablet because of its size. The report said that it is more of a "streaming TV" than the former. What's more, with the device's built-in stand, users can prop it up anywhere and go on with their business.
The Samsung Galaxy View is equipped with a Samsung Exynos octa-core processor that is coupled with 2 GB of RAM and Android 5.1.1 Lollipop. It is pre-loaded with a variety of streaming services such as HBO GO, Hulu, and Netflix. Likewise, it comes with DIRECTV, Time Warner Cable, and Comcast Xfinity. Watching television shows or movies through these services works great with the 1080p resolution display of the device.
In terms of storage, PC Mag says that the Galaxy View has a built-in 32 GB that can be extended through the MicroSD slot at the back. It also has a MicroUSB port so users can connect their external storage to it.
Along with all the streaming apps, the big viewing device from Samsung works like any other Android tablet. It can be installed with games and productivity apps.
Meanwhile, according to Android Central, the Galaxy View also has a "family group" feature that will let users share content across various smartphones or tablets.
Priced at $599, the Samsung Galaxy View will be available starting Nov. 6. It will compete against other tablets or streaming boxes such as the Roku Box and Chromecast.