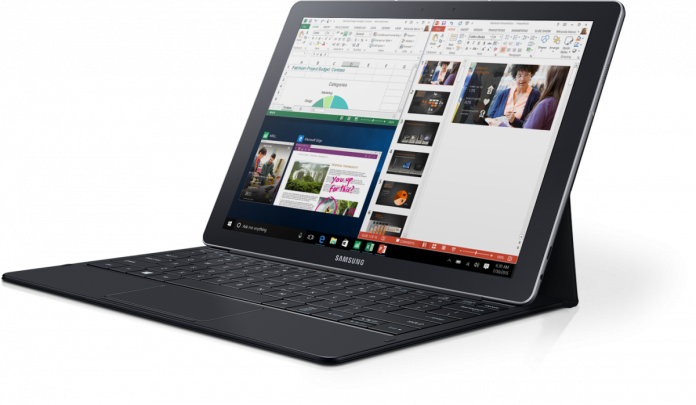 Finally, Samsung is releasing a hybrid tablet that will surely fall in the good graces of gadget fanatics. Dubbed as the Galaxy TabPro S, the device that rolled a tablet and laptop into one, it is supposedly hitting the shelves this March 16.
While Samsung U.K. website currently accepts pre-orders for the Galaxy TabPro S for its March 16 ship-out date, it is reported that the device is already in stock in some of Samsung's licensed retailers. Whatever the company's reason for releasing the device in a staggered manner, it doesn't really matter for Samsung fans as the device is already within their reach.
One of the most interesting features of Galaxy TabPro S is its sleek and elegant appearance. As it is lightweight, would-be owners will be spared from the hassle of carrying the device with an extra load in their bag. Additionally, it comes with an equally sleek-looking leatherette cover that does not only add to its elegance but also protects the device from wear and tear of daily activities.
As the Galaxy TabPro S comes with a 12-inch sAMOLED display, it goes without saying that it is an ideal mobile personal computer, much more that the device runs on Windows 10 and boasts of the latest Intel Core M processor. Additionally, it comes with a keyboard that has notably bigger keys as compared to those on island-style keyboards, making it easy for the user to complete work-related activities in time and with less hassles.
Of course, the Samsung Galaxy TabPro S's perks don't stop at the ease it provides the users for their work-related activities. With its sAMOLED display, the device can easily become a personal movie theater as the touchscreen display enables videos to have vivid colors.
What makes the entertainment aspect of the Samsung Galaxy TabPro S even more interesting is the device's ability to support XBOX One game streaming. Hence, gamers can still lay their hands on their favorite XBOX ONE game even if they are mobile. Even if they play for hours, that won't be a problem as the device boasts of a battery that can last for almost 11 hours, and that only requires two hours for it to be fully charged.
If there is one thing that mars this latest device from Samsung though, it is the absence of a regular-size USB port as it only comes with a USB Type-C connector.
On the whole, there is no denying that the Samsung Galaxy TabPro S is one must-have device for Samsung fans, whether they are always on the go or otherwise.