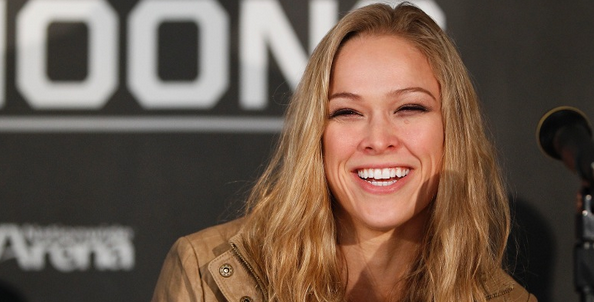 UFC former bantamweight champion Ronda Rousey seems like she had a good time attending the Marine Corps Ball in South Carolina last weekend.
According to a report by People, Rousey was all smiles when she arrived in Los Angeles. In an interview with TMZ, she said that her date Marine Lance Cpl. Jarrod Haschert "was a real gentleman and a real sweetheart."
During the night of the event, Rousey shared, "It was the only smiling I've been doing, I think." They, however, did not dance as the mixed martial arts fighter revealed, "I don't dance in public."
The two met via Facebook when Rousey accepted his invitation on the social media site. Haschert has also sent him a video of himself saying, "I love everything you do, and I think you are a phenomenal person. You would truly be making my dreams come true. I really hope you get this, and take consideration into it, thank you very much."
Rousey previously explained that aside from finding him cute, her schedule also permitted it as her fight has been moved to a different date.
Moreover, it turns out that it may be the outing Rousey needs after her devastating defeat against Holly Holm last month. "Honestly, I probably would stay on my couch crying and eating ice cream for like another month if he didn't ask me to go," she said.
According to UFC President Dana White, Rousey has been slated for an immediate rematch against Holm at UFC 200 which will take place on July 9, 2016 in Las Vegas, Nevada.
Holm (10-0 MMA, 3-0 UFC) has knocked out Rousey (12-1 MMA, 6-1 UFC) by a second round head kick last month at UFC 193.
Holm, on the other hand, said that her biggest problem with the upcoming rematch is the time it will take before it happens. "The only thing about July is that it's eight months away from my last fight. That's the biggest thing. I don't like to wait that long," MMA Junkie reported.