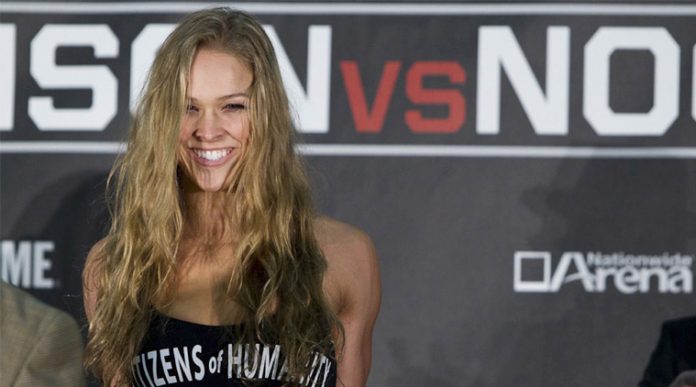 Former UFC champion Ronda Rousey congratulated opponent Holly Holm for knocking her out during the UFC 193 Women's Bantamweight Championship last November.
Rousey hosted "Saturday Night Live" for the first time this weekend and took the chance to address her loss to "The Preacher's Daughter" who prompted her face surgery.
"It's the first time i'm going to be live on television without getting punched in the face!" the 28-year-old said in her opening monologue. "It's also the first time I'm talking to my fans since my loss to Holly Holm in November," admitting it "was a fight that Holly deserved to win, and I just wanted to take a minute to sincerely congratulate her."
The former undisputed champion then threw her hand in the air and smirked: "That's enough!"
It must have taken a lot for Rousey to swallow her ego after her defeat, considering how she trashed Holm prior to their fight. She posted a rather brutal message on Instagram before her knockout, saying, "I'm really going to enjoy the beating I give you."
The 34-year-old new champion defeated Rousey within 59 seconds of the second round with a left kick on her jaw.
Months later, Rousey went back on television and showed her funny side for "SNL." Her acting and fighting skills were highlighted in skits where she portrayed a high school student crushing on a school jock but was betrayed by her best friend.
Another skit depicted Rousey as a naughty high school teacher in court.
The latest episode of "SNL" also featured musical guest Selena Gomez and special guest Tina Fey who came back for a visit to make a hilarious impersonation of Sarah Palin endorsing presidential candidate Donald Trump.