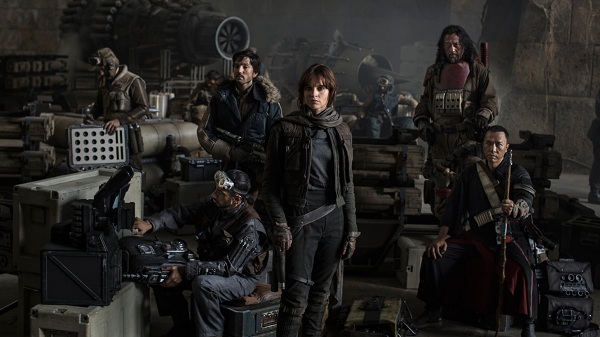 "Star Wars" fans who are anticipating the upcoming launch of the franchise's first stand-alone flick just got something new to chew on. A new report has spotted the logo of the upcoming film "Rogue One: A Star Wars Story" in an eBay listing.
The eBay listing in question was first spotted by MakingStarWars.net. The listing consists of alleged crew and cast gift items, including a duffel bag and another one which apparently featured the "Rogue One" logo. Both bags were created by Tombag.
The logo, which can be seen on the canvas tote bag, appears to be a modified version of the Rebel Starbird, according to Comicbook.com. The Rebel Starbird is the traditional emblem of the Rebel Alliance and the Resistance.
Underneath the Star Bird emblem is a writing in Aurebesh, one of the languages in the "Star Wars" universe. Reports claim that the writing is translated as "Go Rogue." Meanwhile, above the "Rogue One" logo is the phrase "Star Wars Rogue One Cast & Crew 2015."
In addition to the canvas tote bag, the listing also includes a duffel bag. The black bag features the previously released "Rogue One: A Star Wars Story" logo stitched on it.
Unlike the "Rogue One: A Star Wars Story" logo, the Star Bird logo hasn't been released officially. There's always the possibility that this could all be a hoax, but Comicbook.com believes the new logo seems to line up fairly well with all the other "Rogue One" pieces of information released so far. In any case, fans will be able to find out for themselves if the new logo is authentic or not when the promotions for the new "Star Wars" movie begin.
"Rogue One: A Star Wars Story" is scheduled to release later this year. Specifically, the new movie will hit U.S. theaters on Dec. 16. 2016.