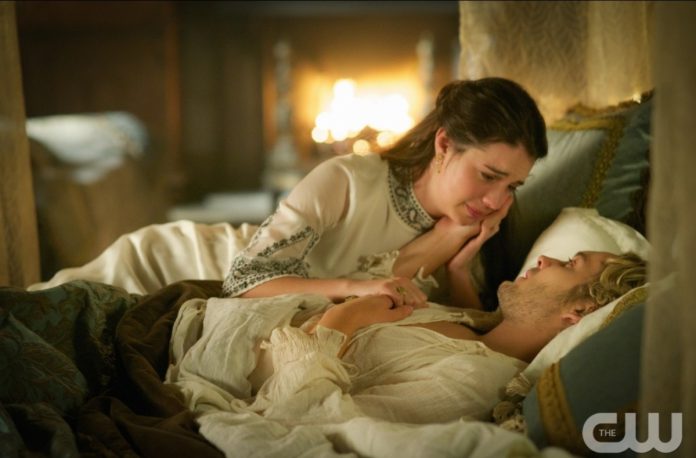 It's no secret that King Francis (Toby Regbo) will eventually die in The CW's historical romance series "Reign." Based on the life of Mary, Queen of Scots, the upcoming fourth episode of the third season will explore the continuous deterioration of the king's health.
Titled "The Price," the synopsis of the episode as posted on The Futon Critic reads: "After Mary (Adelaide Kane) receives an urgent message from her ailing mother (guest star Amy Brenneman) about the dire situation in Scotland, she finds herself looking to Francis for aid. Catherine (Megan Follows) finds herself up against Narcisse (Craig Parker) as she fights to become the regent to Charles (guest star Spencer MacPherson). Meanwhile, Elizabeth (Rachel Skarsten) faces continued pressure to wed."
In the 47-second teaser for the episode, Mary's desperation to save her husband points her toward looking for a healer with magical powers. To complete the ritual, another person's life is required. The queen shows her love and devotion by deciding to give her own in exchange for Francis'. Before the end of the preview, the king is shown taking a deep breath and waking up.
On Entertainment Weekly's Spoiler Room, showrunner Laurie McCarthy reveals, "Once Francis dies, there's going to be a new reason for Narcisse and Catherine to come together. Francis' death shifts the power dynamic at court between Narcisse and Catherine. There's going to be a huge battle for the regency coming up and a blossoming relationship between Catherine and Narcisse, because his ambition is going to be awakened again."
In a separate interview with EW, McCarthy said that the death of the character will come no matter what. She added that she wanted the journey of Francis and Mary to be emotional so that the fans would be able to feel the "highs and lows." By spoiling what will eventually happen, the showrunner explained that the fans would get heartbroken but they would not reel once it does.
The fourth episode of "Reign" will air on Nov. 6 at 8/7c on The CW.