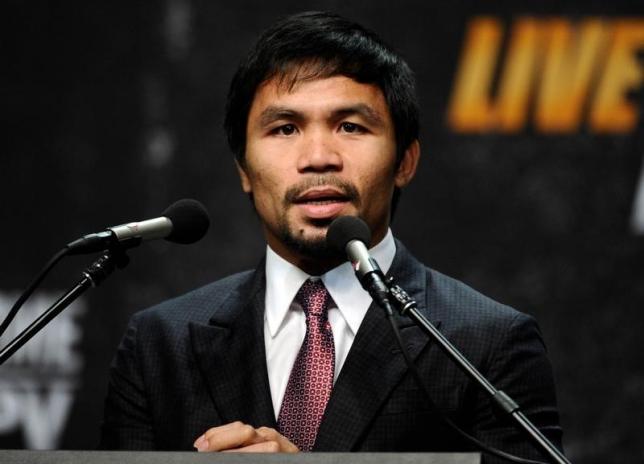 Manny Pacquiao changes gear in terms of retirement and reveals that the while his eyes are set on his bid in the upcoming Philippine elections, he is still uncertain about how he will feel when he finally hangs the gloves.
"After this fight I have already said that my mind is to focus on my job. If I win a Senate seat (in May), I have a big responsibility and I need to focus on that," the 37-year-old pro boxer shared to The Telegraph. However, he admitteed that he is still tinkering on the possibility of stretching his career further than his upcoming showdown with Timothy Bradley.
"I cannot say right now that I am going to retire. I don't want to say that because I don't know what the feeling is when you leave boxing. I will give it great thought when I return home. My mind right now says to retire, but we don't know."
Over the course of the last couple of months, Pacquiao has been adamant about leaving the industry that made him the global superstar that he is right now citing his want to serve the Filipino people via seeking higher political office as well as to spend quality time with his family as his primary reasons.
Long time trainer Freddie Roach, on the other hand, has been keeping his hopes up that the Bradley fight will not be the last time for his most prized student stepping on the professional ring saying, "We have talked about it a little bit. Manny told me he's going to retire, and I told him I think he still has some more fights left in him."
As for Bradley, the thought of pushing Pacquiao to retirement is an enticing idea. The American boxer was quoted by boxing website Bad Left Hook saying, "If he loses again, that would definitely put in his mind that he should retire and step away from boxing. If I have anything to do with that, of course that's what we wanna do. We definitely wanna retire him. He says he wants to retire, so I wanna push him out the door."
Shall Pacquiao decide to leave the jampacked arenas and the limelight of the grueling sport, his plate is still relatively full as he has also branched into a lot of other industries. On top of politics, he has also entered the pro basketball league as well as showbusiness in the Philippines.
The April 9 Pacquiao-Bradley fight will mark the third time for the fighters meeting in the ring following previous matches in 2012 and 2014.