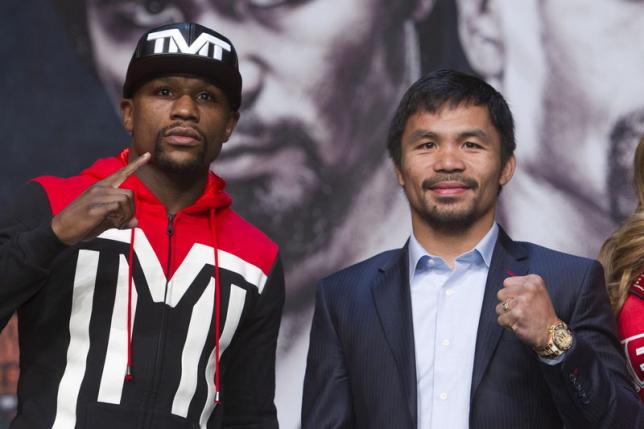 A Pacquiao-Mayweather rematch may still happen, if things go Pacquiao's way.
If Manny "Pacman" Pacquiao would go to the ring once more and fight, it may only be against Floyd "Money" Mayweather Jr.
After his shoulder gets healed, that is. Pacquiao, currently recovering from a surgery for his torn rotator cuff on his right shoulder, will take a short break from the boxing ring. But when the time comes for him to put on the glove again, his eyes may already be set on only one opponent.
"There is talk in Pacquiao's camp that if and when he decides to return to the ring, the man opposite his corner will be only Mayweather," said Joaquin Henson via Philstar.com. "Pacquiao isn't interested to fight anybody else, said an insider, quashing speculation of an Amir Khan duel sometime in the future, somewhere in the Middle East."
The previous match, dubbed as "The Fight of The Century", and called "The Battle for Greatness", did not come to life so easy. Fans and enthusiasts alike endured a tug of war in the negotiations between the two boxers. It was so protracted that for a while, the match seemed impossible. But after years in the making, the dream fight finally happened last May 2, in Las Vegas. The fight ended with Mayweather winning via unanimous decision. What followed was like breathtaking episodes of a soap opera.
There were a lot of violent reactions to the result. Then, Pacquiao himself made a statement blaming his right shoulder injury for his loss. This then resulted in various lawsuits filed against him and the promoting company, for his failure to disclose his injury. Then, reports surfaced saying that Floyd Mayweather Jr. himself expressed his willingness for a rematch, after Pacquiao's recovery. Ironically, this was followed by an interview where Mayweather called Pacquiao a "coward". It is also important to note that after his September fight, Mayweather is set to retire from boxing.
Right now, fans can only hope for the best.