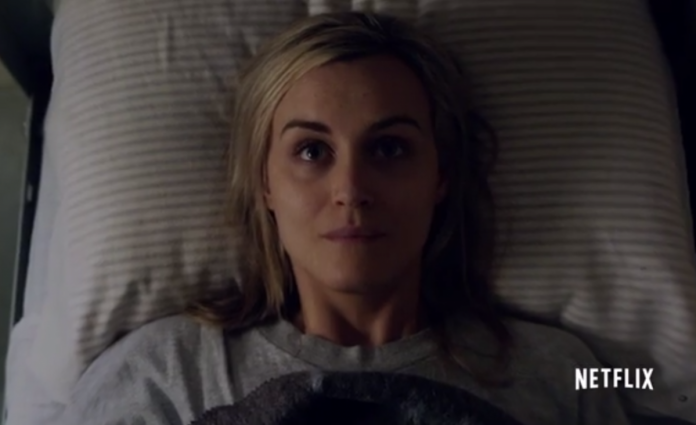 Surely the remaining inmates of Litchfield Penitentiary are still in mourning of the sudden and very tragic death of Samira Wiley's Poussey. But given that "Orange Is the New Black" has a bit of downtime on their hands, will the show be bold enough to pull another death shocker with Taylor Schilling's Piper next year?
If Schilling is to be asked, she admits that tough times are ahead for her character while talking with Pop Sugar. However, what is interesting is when further questioned about it, she suddenly became cagey. "I don't know … I don't know" was all she could muster to say on the whether Piper will make it out okay in the show's fifth-year run.
Despite surviving season 4, it's very possible that the writers behind the show are already looking to slowly phase her out and focus the attention on other characters. Needless to say, it was Piper's story that started the whole lore for "Orange Is the New Black." And it might appear to be a little bit farfetched that the series would ditch her especially with a sixth and seventh season still coming. Then again there are many other characters who have interesting stories on their own that can be explored by the dramedy should they take Piper out of the picture. Furthermore, with the series leaning towards more socially relevant issues, other inmates like Lori Petty's Lolly can hold a story just based on her psychiatric ward stint.
Delving deeper into the symbolisms used in "Orange Is the New Black," the blonde actress was also asked about the relevance of Piper's hair evolution as it relates to her transformation. In the early stages of the series, she had been wearing her long locks until she chopped it off and maintained a long bob once behind bars. This current season, the former belle seemed to have favored the practicality of a swept updo.
"Piper's outsides are becoming less and less important. She's kind of moving further and further away from the idea of what she thought she was," Schilling explained, referring to how it mirrors Piper's change in hairstyles over the years. "She's becoming more practical. She's becoming a creature of the prison, and there's no space for excess. Her only need is for survival, and brushing her hair doesn't really factor into the equation."
No official return date has been set for "Orange Is the New Black" season 5. Currently, the show has already commenced production with an assumed availability on Netflix sometime early next year.