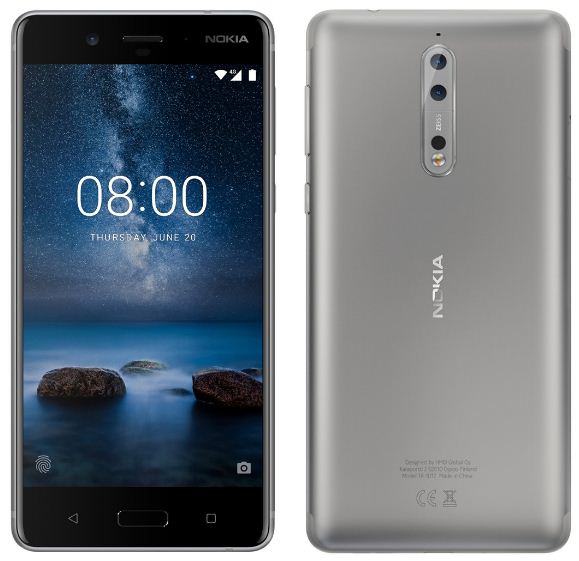 The specifications of the upcoming Nokia 9 smartphone have been leaked online, showing an upgraded organic light-emitting diode (OLED) display and Android Oreo operating system out of the box.
The technical details of the phone were revealed in submitted documents to the Federal Communications Commision. The Nokia 9 will be the successor to the Nokia 8, the company's flagship phone which was released earlier this year.
The upcoming phone will feature a large 5.5-inch OLED screen, an upgrade to the in-plane switching liquid crystal display (IPS LCD) that was used by the Nokia 8. It will also include a near stock form of the latest version of Google's Android mobile operating system, Android Oreo.
The Nokia 9 will have a Snapdragon 835 as its processor, while its random access memory (RAM) options have not yet been revealed. The phone will have a hefty 128-gigabyte (GB) of built-in storage and may still be expandable via a secure digital memory (SD) card.
The smartphone will sport a dual camera system on its rear side. It is composed of a 12-megapixel (MP) sensor for general photography and a 13 MP sensor to create pleasing background effects like bokeh. On the front, the Nokia 9 will have a 5 MP selfie snapper.
The phone is also getting a large 3,250 mAh battery capacity as well as 18-watt fast charging.
Although the tech sheet does not reveal any feature that would possibly help the Nokia 9 standout from the rest of the modern day smartphones, the specifications don't always tell the entire story when it comes to smartphones. According to a recent rendering of the upcoming device, the phone may boast an edge-to-edge display with curved sides, similar to Samsung's curved infinity display technology that it features on its flagship phones.
The leak of the specifications did not indicate a possible launch date for the new phone. However, it is already facing fierce competition, as South Korean giants Samsung and LG are expected to unveil their new flagship phones by early 2018.