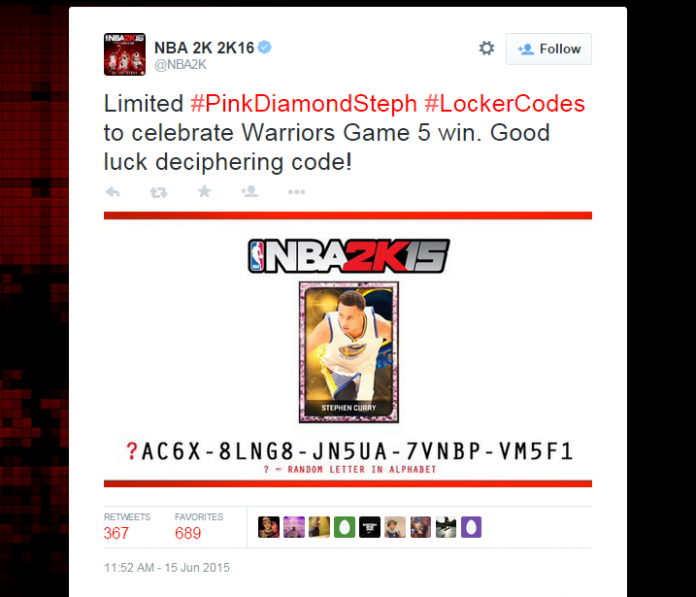 A set of limited special Locker Codes was made available just recently for the NBA2K15. The official NBA 2K Twitter account recently released codesthat players can use to unlock Pink Diamond Stephen Curry and Pink Diamond Carmelo Anthony. The code needs to be deciphered as there are two characters left blank (only one, in the case of the code for Pink Diamond Stephen Curry).
Meanwhile, the official Twitter account for the NBA 2K Games also previously revealed the cover athletes for the latest instalment of the NBA2K series, NBA2K16. Players who will buy the game will get to choose covers between Anthony Davis, Stephen Curry, and James Harden.
In a report by USA Today, Spike Lee comes to the upcoming new instalment of the popular basketball video game franchise as story writer and director. The new Spike Lee Joint aims to add realism to the game's MyCareer mode, where players get the feel of the real life in the basketball industry.
"We follow a kid through the trials and tribulations of being a top high school player and the decisions he has to make," Lee said, via USA TODAY.
NBA2K16 is now available for pre-order. Players who will place their orders early on will get exclusive offers and in-game bonuses. According to a report over NBA2K16Game, a fan blog dedicated to the game, players who will pre-order will receive the "Early Tip-Off Weekend", where they will be receiving the game four days ahead of the official release date. Additionally, players will also have the following bonuses upon pre-order:
10,000 Virtual Currency (VC), this will be very helpful in unlocking many phases.
A MyTEAM VIP Package:
New-Gen & PC 3 MyTEAM Emerald Packs each with a guaranteed Emerald player;
Prior-Gen My TEAM Gold Booster Pack with Guaranteed Gold Player and 4 additional Gold items.
NBA2K16 comes to the PlayStation and Xbox consoles, PC, and Android and iOS devices September 29, 2015.