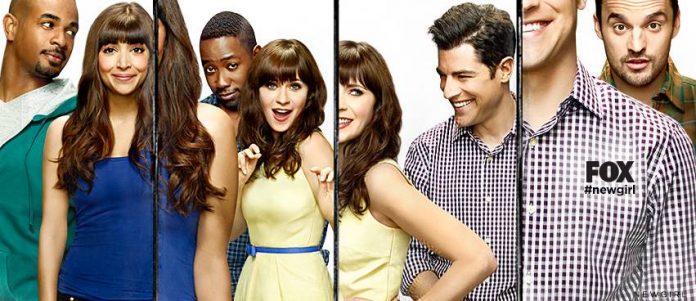 Now that Nick (Jake Johnson) and new loftmate Reagan (guest star Megan Fox) have revealed their feelings for each other and kissed, is there still hope for Nick's romance with Jess (Zooey Deschanel)?
Though Nick may find love with Reagan, who is temporarily residing in the "New Girl" loft while Jess is away on jury duty, the sitcom's executive producers aren't ready just yet to end the long-standing romance between Jess and Nick.
"The door is not totally shut," "New Girl" creator and executive producer Liz Meriwether told Entertainment Weekly during the show's 100th episode party on Wednesday, March 2.
Writer and co-executive producer Brett Baer added, "No, it's never totally shut with those two, which is the fun of it."
In an interview with TVLine, Meriwether explained why there will always be sparks flying between Jess and Nick, saying, "In many ways, their relationship is the heart of the show." She explained how Reagan plays into the Jess-Nick dynamic, adding: "Actually, Nick's relationship with [Reagan] helps bring things into perspective for Jess, in a good way. There's definitely some developments that are on their way by the end of the season."
The next episode of "New Girl," titled "Goosebumps Walkaway," sees the return of the "new girl" herself with Jess coming back from sequestered jury duty. She will meet Reagan face-to-face for the first time as the "New Girl" crew throws bachelor and bachelorette parties for Cece (Hannah Simone) and Schmidt (Max Greenfield), whose long-awaited wedding airs in an upcoming episode.
With Jess, Nick, and Reagan coming together to prepare for the Cece-Schmidt nuptials, Baer admitted that "the obvious decision" would have been to create some sort of conflict between Nick's maybe-soulmate and the temporary loftmate. Instead, the two women will form an unlikely bond. As Meriwether explained: "I didn't want to write a story with two women at each other's throats. So we went the other direction with it. We kept all of the drama inside [Nick's] head."
In Tuesday's episode, Jess will investigate the true identity of a juror who was on jury duty with her, Cece and Winston will attempt to help Schmidt move past his fear of dancing in public, and Reagan will prepare to move on.
"New Girl" airs Tuesdays at 8 p.m. ET on Fox.