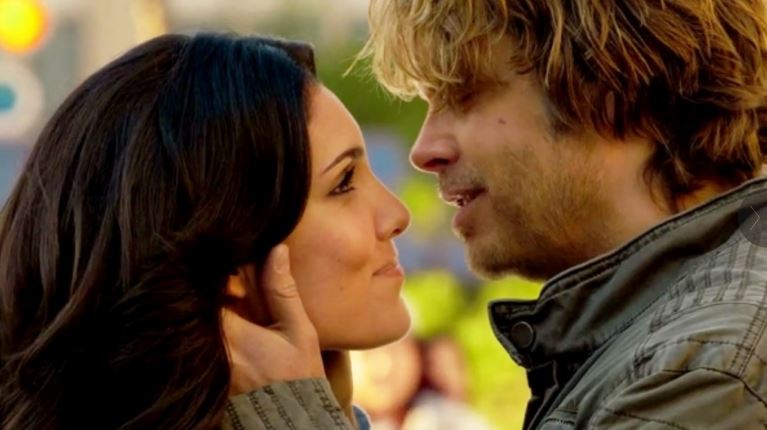 The upcoming season of "NCIS: Los Angeles" is sure to be filled with lots of action-packed moments as the team takes on new cases in the CBS show. However, season 8 will also be the start of something new for Kensi (Daniela Ruah) and Deeks (Eric Christian Olsen) as the two are about to become engaged in the new season.
At San Diego Comic-Con, Ruah and Olsen previewed what to expect in season 8, and the two also talked about their characters' upcoming engagement. When asked by TVLine's Michael Ausiello about the couple's next milestone, Ruah gestured to her baby bump and said, "Not this milestone." The actress is pregnant in real life, but her pregnancy won't be written in the series.
Ruah added that the writers have come up with a storyline to hide her pregnancy, saying that she "loved" the first time that did they that and that this time around, there will be an even stronger storyline.
"It involves much more of a relationship side too, for Kensi and Deeks, and it's gonna be powerful," said Ruah about the story arc.
"Engagement for Kensi and Deeks, but not in the traditional sense of the word," said Olsen. "This is probably the craziest season for these two characters that we've ever done."
Ruah and Olsen also playfully bantered about their characters' engagement, and Olsen asked the actress if she cried while filming the scene.
"You were off-camera. Were you not crying during the engagement speech?" Olsen teased.
Olsen also recently spoke with Dual Pixels, and the actor gave a production update, saying that they are in day seven of filming season 8. Olsen detailed how the writers and crew went about trying to hide Ruah's pregnancy in a creative way, saying that they shot eight episodes of her arc ahead of time.
"They had to figure out a way to do a storyline to shoot around that because there is a proposal," said Olsen.
"NCIS: Los Angeles" season 8 premieres on Sunday, Oct. 2 at 8 p.m. ET on CBS.