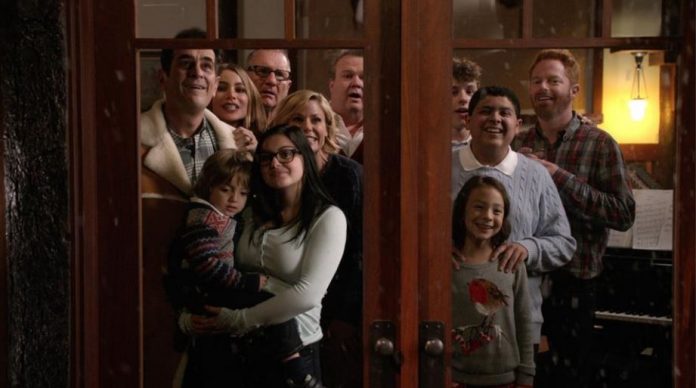 "Modern Family" is returning for its eighth season in a few weeks, and ahead of the new season's premiere, ABC released new key art to promote the next installment, which shows that the Dunphy and Pritchett kids have all grown up.
The key art which was released by E! Online features all of the main cast members dressed in white and holding up gold frames. The premiere episode will feature the family getting together for a Father's Day celebration after their separate vacations. Season 8 will see Claire (Julie Bowen) struggle with Jay (Ed O'Neill) back at the family business, while Phil (Ty Burrell) indulges in more of his bizarre hobbies. Meanwhile, Gloria's (Sofia Vergara) fledgling hot sauce business starts to become successful.
As for Mitch (Jesse Tyler Ferguson) and Cam (Eric Stonestreet), the two will have some interesting guests in their upstairs rental unit this season, while daughter Lily (Aubrey Anderson-Emmons) will find out what it's like to be a tween. Haley (Sarah Hyland) will start her own business, while Alex (Ariel Winter) will learn to prioritize while in Caltech. Manny (Rico Rodriguez) and Luke (Nolan Gould) will start their senior year of high school and visit colleges together.
The new season will feature guest stars Nathan Fillion and Martin Short. According to Entertainment Weekly, Fillion will appear in multiple episodes as a weatherman named Rainer Shine, who gets involved with the Dunphy family. Short will guest star in the second episode of the season as Merv Schechter, a promotional expert. It's likely that Merv will be helping out Gloria as she puts her hot sauce on the market.
The comedy series has had a very successful run since it premiered in 2009. According to co-creator Steve Levitan, he sees the show returning for a few more installments before taking its final bow.
"I'd love to see the show go 10 years," said Levitan to ABC News. "I'm not sure why, it just seems like a nice, even number."
"Modern Family" season 8 premieres Wednesday, Sept. 21 at 9 p.m. ET on ABC.