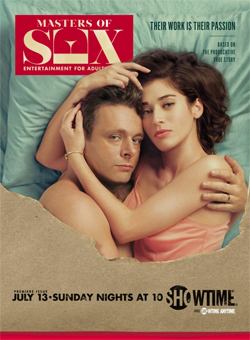 Showtime has released yet another trailer for season three of 'Masters of Sex,' which is set to premiere next month.
Last on season two of 'Masters of Sex,' it was revealed that Virginia's ex Ethan Haas betrays her by leaking the study to a certain Dr. Kauffman at UCLA. And their plan to advertise the study over CBS gets aborted. Meanwhile, Libby, who reveals that she has been aware of Bill's affair with Virginia for over two years now, has an affair of her own.
In the trailer released by Showtime, it appears the show is now taking place in the '60s with Bill and Virginia getting their study published in the form of a book. Also, in the trailer we can see Virginia explaining to an audience of men that they are the sexual revolution.
But the major shocker that the trailer reveals is that Libby will be seen sharing a kiss with Virginia, as she says, " I have always wondered what it was like to be with you." Now that Libby knows of Bill and Virginia's affair, will she confront her? That's more likely to happen, since the trailer shows Virginia assuring Libby that her family is not in trouble.
For season three, a new cast member is added to the show in the form of Josh Charles, who plays the character of Daniel Logan, a self-made salesman who works in a perfume industry. Daniel sets out to learn the smell of sex and design a perfume that arouses erotic feelings, as he seeks to understand the term desire. His main objective really is to bottle the smell of sex as some sort of aphrodisiac to the general public.
According to a report by Crossmap, Daniel and Virginia may be seen getting into a relationship eventually, since the real life events dictate that the two were romantically involved with each other.
Season 3 of 'Masters of Sex' airs on July 12.