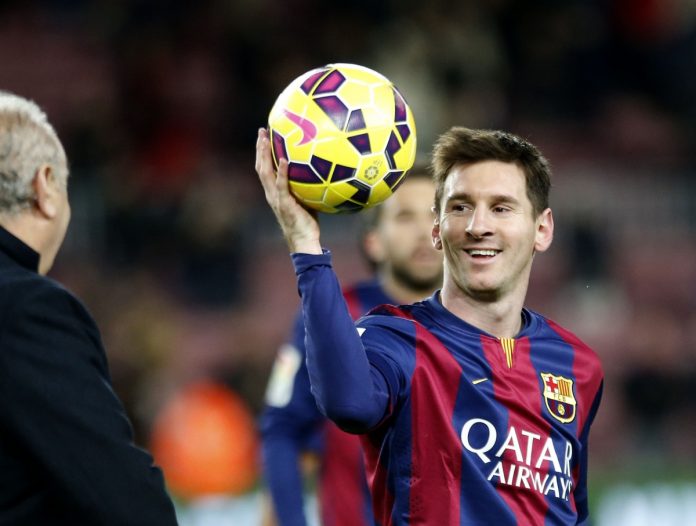 FC Barcelona forward Lionel Messi has won the Ballon d'Or award for the fifth time, making him the world's best player of 2015.
BBC reports the 28-year-old Argentine garnered 41.33 percent of the votes, followed by Real Madrid forward Cristiano Ronaldo in second place (27.76 percent) and Barcelona forward Neymar in third (7.86 percent).
In 2015, Messi scored a total of 52 goals and 26 assists in 61 games. The Argentina captain holds the best minutes-per-goal rate of 80, with other players getting a minimum of 10 goals across Europe's top five leagues.
Messi was directly involved in a total of 49 goals in La Liga, scoring 34 goals and 15 assists. Barcelona has won five of the six club tournaments in 2015 and Messi has scored in all of them.
"I have fun like a child in the street. When the day comes when I'm not enjoying it, I will leave football," Messi told The New York Times in 2011 when he was asked about his game style.
This is the fifth time Messi received the Ballon d'Or award since he was proclaimed as the world's best player for four consecutive years from 2009 to 2012.
"It's a very special moment for me to be back here on this stage, winning again another Ballon d'Or after seeing Cristiano win it," Messi said in his speech. "It's incredible that it's my fifth. Much more than anything I would have dreamed of as a kid."
"I want to thank football in general, for everything it has brought me both the bad and the good," he added. "It has made me grow and learn always."
Thirty-year-old Portugal captain Ronaldo has won the Ballon d'Or award three times in 2008, 2013 and 2014. He scored a total of 57 goals in all his games in 2015 with a record of 16 in the Champions League.
Twenty-three-year-old Barca forward Neymar, the first Brazillian player to reach top three since Kaka won the title in 2007, scored a total of 45 goals in 62 games.