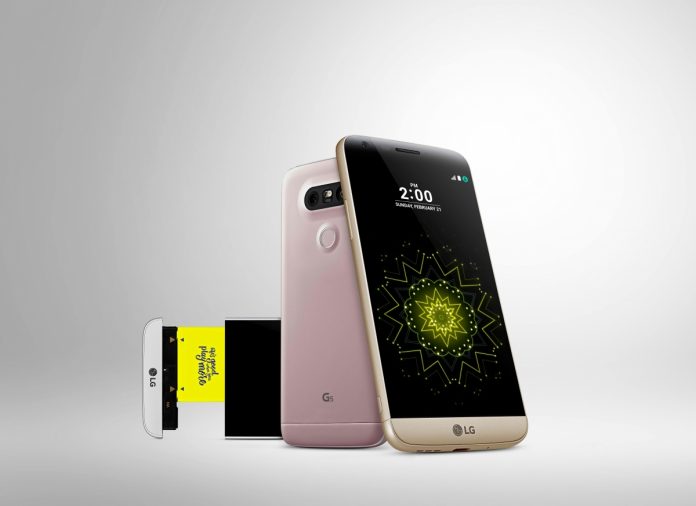 The new LG G5 flagship smartphone will launch in Canada next month, while it was recently made available for pre-orders for users in the European market as a listing for the device came out on Amazon UK for pre-order.
According to a report by Mobile Syrup, the new LG G5 will be available in Canada via major retailers including Bell, Rogers and Fido, Telus, as well as regional carriers in the country such as Eastlink, MTS, SaskTel, Videotron, and Wind Mobile next month on April 8
The new G5 flagship will be available in three different color variantsSilver, Titan, or Pink. However, color availability for each carrier varies.
Additionally, various retailers and carriers are also offering freebies and other special offers for users who would dish out resources and pre-order the new LG G5 early on. Rogers, for one, is offering a free LG CAM Plus for every user who will pre-order the new flagship smartphone from March 8 through the lunch date itselfhowever, not all users will be able to grab one for themselves, as supplies of the free accessories will be limited, and offer will be good only until supplies of the CAM plus last.
The LG CAM Plus accessory is valued at a $99 worth. The device, when attached to the device, will transform the G5 into a device with analog camera control and better grip and handling when taking photos.
It sports a 5.3-inch In-cell Touch display with a Quad HD resolution, with the new Always ON feature. The new device runs under a Snapdragon 820 chipset with a quad-core CPU at 1.2 GHz and an Adreno 530 GPU. It has 4 GB worth of RAM, 32 GB worth of internal storage, and microSD support for up to 2 TB.
It sports a dual main rear camera set up of a 16-megapixel and 8-megapixel one, with an Optical Image Stabilization 2.0 feature.