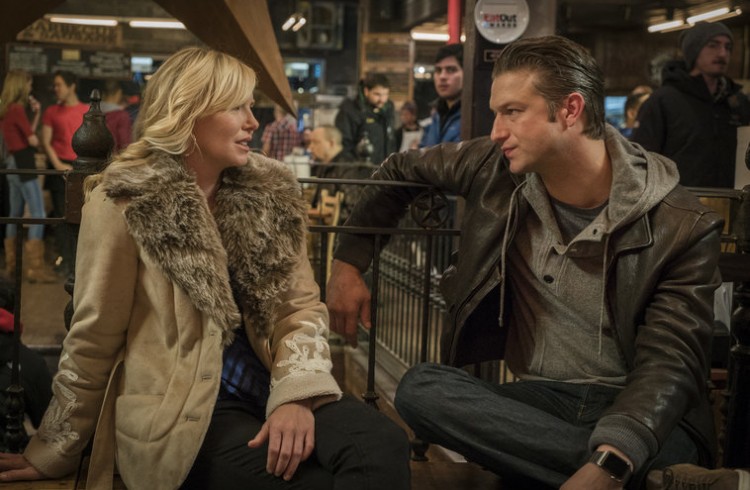 Not only did Olivia Benson came back to the Special Victims Unit of Manhattan in the last episode of "Law and Order: SVU," but series veteran Mariska Hargitay also re-claimed the director's seat, pulling the ropes on the Carisi (Peter Scanavino) centric episode.
In the episode titled "Sheltered Outcast," Carisi went on an undercover mission to find out the workings in a homeless shelter after rape cases were reported in the housing. During his mission, the SVU newcomer came very close to being seriously roughed up with Benson almost pulling him out of the stakeout. Fortunately, he came through and was able to pinpoint the perpetrator.
While the case was succesfully closed, arguably one of the most interesting sequences in the episode that sparked the interest of the fans is the tender moment between Carisi and colleague Rollins (Kelly Giddish). In a sit down with The Hollywood Reporter, Scanavino was asked to discuss the seemingly budding relationship between the two detectives.
"They definitely have a very special friendship that's developed very organically over the course of these two seasons," said Scanavino who came into the show much later than Giddish. "And now, especially with her having her baby and how Carisi was there for her, I think it's developed into something of great mutual respect. It's still definitely on the friendship level, but who knows? It could stay there. It could develop into something itself."
Earlier in the season, "Law and Order: SVU" already hinted that there might be something brewing between Carisi and Rollins, most especially after Rollins gave birth and was overwhelmed with raising a kid on her own.
"That's what's really interesting about the relationship with Rollins. I think there are a lot of possibilities there, and I think all those possibilities have grown from Kelli and I interacting with each other onscreen. It wasn't like we were getting steered into a storyline. It's just growing organically so it can go wherever it wants to go."
Shall the show go on a romantic path for the detectives, it will not be the first time that Rollins will be involved with someone from the same department. It can be remembered that the single mom was briefly attached to former SVU member, Nick Amaro (Danny Pino) who interestingly, was the person Carisi replaced in the sex crime busting squad.
Moving forward, the show is currently on a short hiatus and will not be on air until May 4. Fortunately, Carter Matt revealed what fans can expect for the rest of the season. According to the report, "Everybody Loves Raymond" alum Brad Garrett will be featured in the penultimate and finale episodes of the season. Garrett will play Gary Munson, a Rikers officer, who despite looking very decent, has a penchant for violence against female inmates.