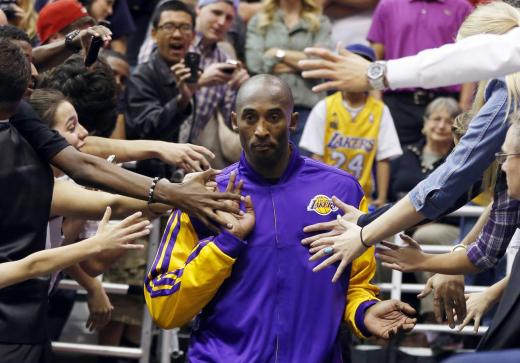 Following the series of farewells and tributes being given to NBA superstar Kobe Bryant as he plays out the last leg of his career before retirement, fellow legendary player Michael Jordan has presented him an impressive gift.
According to ESPN, Jordan gave Bryant a full set of his signature shoe line from Nike, Air Jordans, which is composed of 30 pairs including the purple-and-gold versions of Air Jordan III and Jordan VIII which Bryant wore during the 2002-2003 season. The gift was handed during the Jordan Brand All-Star party.
"The Jordan Brand is about more than basketball, it's about leaving a legacy and honoring those who have left a legacy. Tonight the brand was able to honor one of the game's great players and the legacy he created," Jordan Brand president Larry Miller said.
Meanwhile, an alternate set of shoes in black, also size 14 as Bryant's, is currently being auctioned on eBay for charity. The opening bid is set at $100,000 and the auction will run until Sunday at noon ET.
Moreover, there are rumors suggesting that LeBron James may join the USA Basketball team in the coming 2016 Olympics at Rio de Janeiro, Brazil as Bryant opted out of the list of candidates to presumably make way for younger players.
It remains to be seen if this comes to fruition as neither Bryant not James have commented yet on the matter.
In a related news, the Black Mamba has offered some words of encouragement to UFC champion Ronda "Rowdy" Rousey after her devastating fight against Holly Holm in UFC 193.
USA Today shares that Bryant reportedly told the MMA fighter that loss was a beautiful thing as champions need to fall at some point. How to comeback from the experience is what's more important as it defines the person's character.
Bryant has remaining 17 home games and a total of 27 games with Los Angeles Lakers, with the final match to be played on April 13 against Utah Jazz.