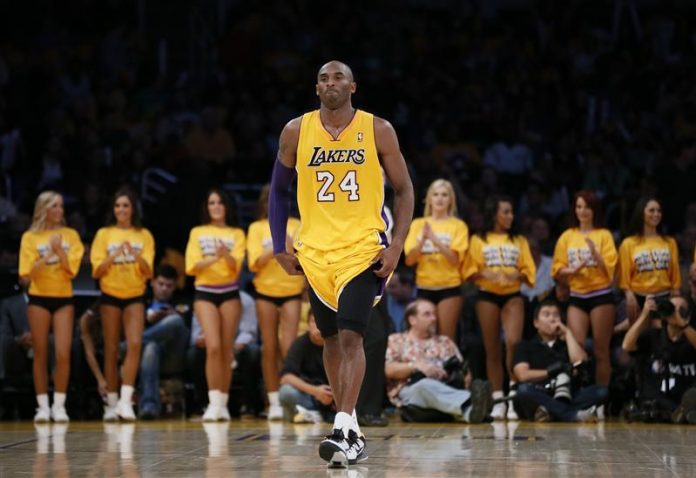 Los Angeles Lakers superstar Kobe Bryant is suiting up for one last season, but before he hangs his kicks when NBA 2015-2016 ends, he seems to be on a mission to leave the league on a high note.
Last game, despite a losing team effort from the Lakers against the San Antonio Spurs, Bryant was able to finish with 25 points (FG: 9-28, 3PT: 4-14) out of the team's 102 output. Arguably, the highlight of Kobe's output was his difficult three-pointer in front of the outstretched hands of Spurs' prime forward defender, Kawhi Leonard.
Speaking of Leonard, Spurs coach Gregg Popovich was revealed to have talked to the Black Mamba about the possibility of him mentoring the rising baller.
"After the game we talked about Kawhi a little bit. [Popovich] wanted me to stay in his ear a little bit and talk to him a little bit," Kobe revealed while talking to Ananth Pandian from CBS Sports. "I definitely, definitely, definitely will. I think he has a tremendous amount of potential and he's only going to get better. So if I can help him out in that regard, I most certainly will," the five time NBA champion added excitedly.
Relatively a newbie in the league, Leonard has only played against Kobe a couple of times since he entered the pro ball in 2011
Bryant has been in the league for quite a while now and has played the Spurs over 90 times in his illustrious career. So, he was also asked to compare his present Spurs defender Leonard to his former appointed guard Bruce Bowen.
"It's very difficult to give you a very intelligent… I could give you a BS answer but it's hard to make that comparison. I saw Bruce so many times. Kawhi I've only played against one-and-a-half times and nothing at a really high level of a matchup," he pondered on.
"It's very hard for me to compare the two. From what I see on TV, Bruce uses length a lot more. He was kind of in and out, tapping the arms and trying to break your rhythm, things of that nature. Kawhi tends to use his body a lot more and plays position a lot more. But they both have phenomenal hands," Bryant ended.
Meanwhile, the 37-year-old is also gearing up to play his final All Star game this Feb. 15 appearing a total of 18 times since his first year to do so in 1998.