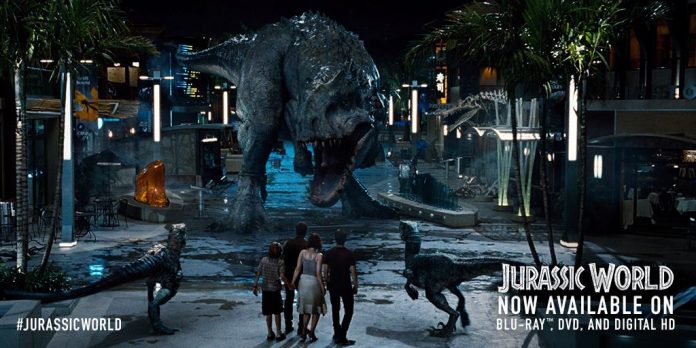 For the longest time, the only actors confirmed to be returning for "Jurassic World 2" were Chris Pratt and Bryce Dallas Howard. But it looks like casting is underway and two more actors are being eyed for the sequel.
Variety has revealed that Toby Jones and Rafe Spall are currently in talks to join the cast. Jones has starred in movies like "Captain America: The First Avenger" and "The Hunger Games," and he provided the voice of Dobby in the "Harry Potter" films as well. Spall has played significant roles in "Prometheus," "Life of Pi," and "The Big Short."
Right now, the specific roles they are going to play in the film are not known yet. Dirk Libbey of CinemaBlend noted that it will be interesting to see Jones portray an evil scientist. After all, he did play Arnim Zola in the "Captain America" films. Libbey jokingly said that perhaps Spall can play a paleontologist that gets his head bitten off. Well, his "Prometheus" character, Millburn, wasn't exactly the sharpest tool in the shed.
Meanwhile, Variety said their sources told them that two more key roles are being tested, however, the producers want to sign Jones and Spall first before they continue casting other roles.
The plot details for the sequel haven't been revealed yet. Last September, "Jurassic World" director Colin Trevorrow told Jurassic Outpost that "Jurassic World 2" would be "more suspenseful and scary." He also told El Mundo (via Time) that the film would tackle the animal rights issues the world is currently facing.
Trevorrow won't be directing the sequel since he will be busy with "Star Wars: Episode IX." However, he will stay on as executive producer and he co-wrote the screenplay for the sequel with Derek Connolly. J.A. Bayona is taking over the director's chair.
"Jurassic World 2" is scheduled to premiere on June 22, 2018.