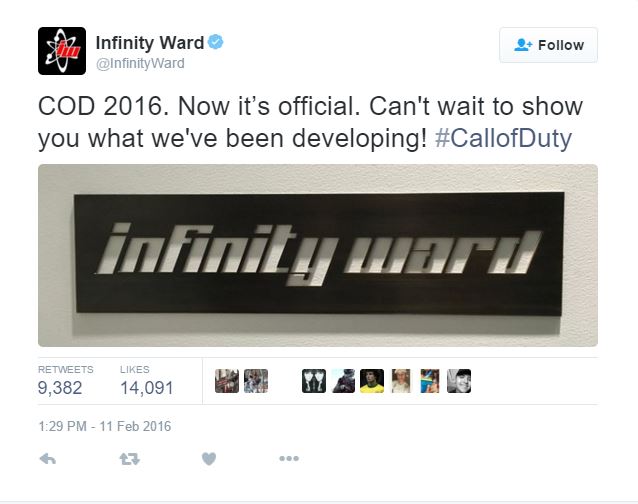 Activision has confirmed that Infinity Ward is coming up with a new "Call of Duty" title.
This was confirmed by Activision during their fourth quarter results conference call, reported CharlieIntel.
It can be recalled that the last title developed by the studio for the franchise was "Call of Duty: Ghosts," the first title in the franchise for next gen consoles.
There are current speculations that there will be the "CoD" release this November, but it is unsure whether this will be "Modern Warfare 4," "Ghosts 2" or a new series altogether. The official announcement is expected around April or May from Activision.
Early speculations proved correct in predicting that Infinity Ward will be tapped for the new title because of the three-year trend of rotating among studios. Sledgehammer Games launched "Advanced Warfare" in 2014 while "Black Ops 3" was released by Treyarch last year.
There is a strong buzz that it could be the second installment of "Ghost" or "Modern Warfare 4" to bring back the glory of the title which lost some steam with "Modern Warfare."
But will the next "Call of Duty" game feature a strong female character?
This seems to be the case while there have been some efforts to introduce a more empowered female figure in the center of the game, according to Gamerant.
Sledgehammer co-founder Michael Condrey has already promised that they are moving forward with this in mind, as they have already started with "Call of Duty: Advanced Warfare" by introducing Ilona, a strong female character.
On the part of Infinity Ward, the studio was the first to allow female multiplayer characters, while "Call of Duty: Black Ops 3" introduced Sarah Hall.
Players need not worry that Infinity Ward will continue with this trajectory since "Rise of the Tomb Raider" director Brian Horton has joined the team.