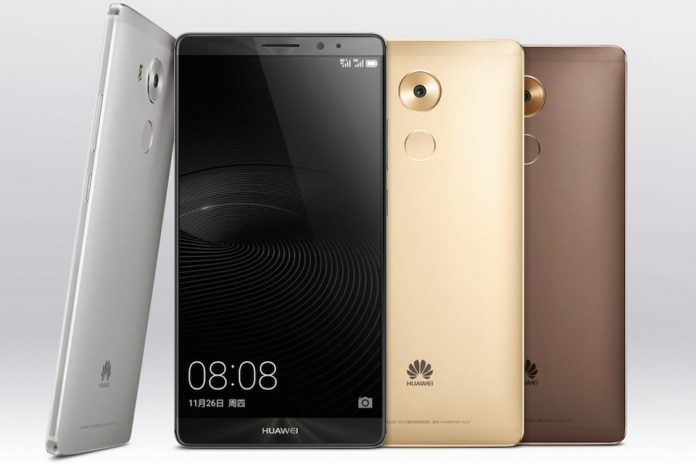 This fall, several new smartphones have been unveiled by top tech companies, including the latest handsets from Apple and Samsung. But Huawei might have a surprise in store for tech fans as the company is rumored to be gearing up to release its latest phone, the Huawei Mate 9, later this year. It was previously claimed that the device was going to be launched in December, but recent reports indicate that the smartphone could be available at an earlier date.
According to Chinese site Weibo (via Pocket Lint), Huawei could be getting ready for its biggest launch yet as the Mate 9 is said to be released in November. The phone is believed to come in three versions, with the most expensive model allegedly bundled with a Huawei Watch smartwatch.
The three models of the Huawei Mate 9 reportedly include a 4 GB random access memory (RAM) option with 64 GB internal storage which will cost about $510; a 4 GB RAM version with 128 GB memory priced at $585; and finally, a 6 GB RAM model with 256 GB internal storage which will cost $705.
The Mate 9 is claimed to be available in nine color options: Amber Gold, Ceramic White, Amber Grey, Rose Gold, Moonlight Silver, Sky Grey, Mocha Gold, Champagne Gold, and Enamel Gloss Black.
The phone is said to come features that are designed to challenge some of the most popular smartphones in the market. The Huawei Mate 9 will allegedly come with a dual 20-megapixel rear camera in an effort to take on the iPhone 7 Plus. It is also said to challenge the Samsung Galaxy Note 7 as it will have an iris scanner up front. The device is rumored to have a 6-inch screen and is expected to be powered by a Kirin 960 processor. It is also said to run on Android 7.0 Nougat out of the box.
As for the exact release date, Techno Buffalo reports that the Huawei Mate 9 is apparently set to make its debut on Nov. 8. It is unclear if this device will be available in the U.S. market. Stay tuned for more news about the Huawei Mate 9.