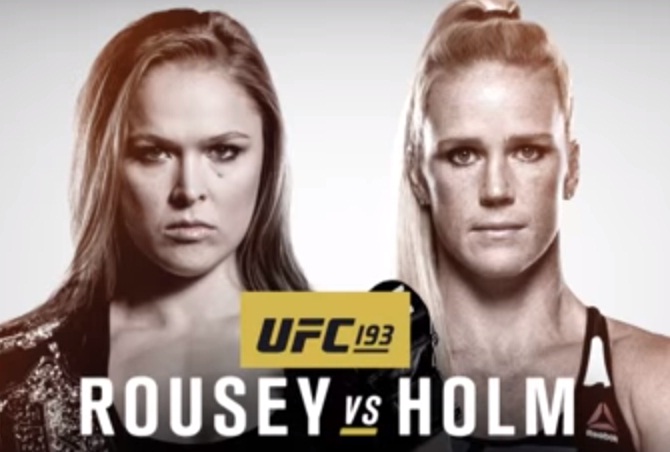 After losing her winning streak to Holly Holm, Ronda Rousey is clear that she wants a rematch in the Women's Bantamweight title.
In the UFC 193 bout held last November, Rousey, who won every single fight in just a matter of seconds, was defeated by Holm via a head kick. Now holding a 12-1 MMA and 6-1 UFC record, Rousey slammed the rumor on her retirement, as she expressed that she wants to fight Holm once again this year, said TMZ.
In an exclusive scoop on the same news portal, Rousey revealed that "they haven't told me the exact date or location or anything yet." She clarified that it is normally a discussion and decision between the two parties, but at this point, the options have not been laid down.
Nonetheless, the fight will not happen in UFC 200 in July, as Rousey also has other engagements outside the ring, such as her "Do Nothing B******" movie with Tina Fey and her hosting stint in "Saturday Night Live."
On the other hand, Holm, holding a record of 10-0 MMA and 3-0 UFC, will be fighting against Meisha Tate (17-5 MMA, 4-2 UFC) in UFC 197 to defend her recently acquired title. The fight is slated on March 5 in a pay-per-view event at the MGM Grand Garden Arena in Las Vegas. The outcome of the said fight will also determine whether there will be a title rematch with Rousey later this year.
According to Dana White, UFC president, the upcoming Holm-Tate bout will be "very very tough" as Tate will be going against Holm, whom she praised, "she's durable, she's got a great chin and stylistically this is a very tough match up," noted MMA Mania.
As for the rematch, White said, "The Ronda-Holly rematch is going to be the biggest fight ever in UFC history."