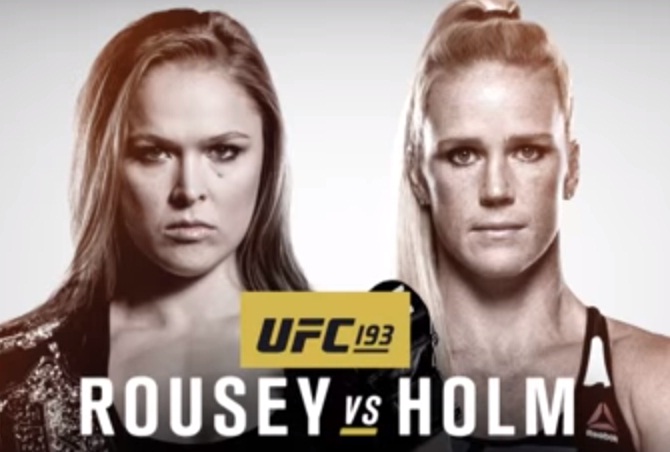 UFC 197, the juggernaut that it is shaping to be, made into countless media outlets last week as it will be co-headlined by two potential dogfights: Conor McGregor vs. Rafael Dos Anjos and Holly Holm vs. Meisha Tate. The upcoming event scheduled in March in Las Vegas, Nevada will break out as McGregor's and Holm's first respective fights after their impressive wins last year.
However, fans are still clamoring for a Holm-Rousey match up and contrary to previous reports of a penciled rematch, UFC President Dana White explained the reason why fans may need to wait a little bit longer to see that happening.
White spoke with Yahoo Sports last Tuesday and shared that Rousey asked for more time off, begging off from UFC 200 set to happen in July. The reason rooted from conflicting schedules as the former Olympian is also set to film the reboot of "Roadhouse."
"The way I look at this one is, Ronda has worked her ass off for us for the last three years," White said. "She's been fighting, promoting and building the sport. If anyone deserves the time off, it's her. The night [of UFC 193] Holly said she'd do the rematch and that Ronda deserved it and everything else. So we were holding it for her if she wanted to do it."
In a separate interview, Holm talked about facing Tate compared to prior news that her next fight will be a rematch against Rousey.
"Miesha Tate's a whole different fight than Ronda," Holm said. "Every fighter's different. I feel she has a pretty well-rounded game, she's kind of one of those scrappy fighters from any position."
But the current Bantamweight Champion is quick to say that she feels confident about the match up saying, "I obviously always feel like I can win because otherwise why would I be taking any of these fights."
"But with that comes a lot of hard work and you have to perform," Holm said. "That's just how it kind of goes down," she further explains.
Tate has been expressing her desire to square off with Holm even before plans for UFC 197 broke out. The 29-year-old mixed martial arts artist pointed out that if she emerges victorious in the proposed fight, the dynamics in the UFC Women's division will be more complicated given her history with Rousey.