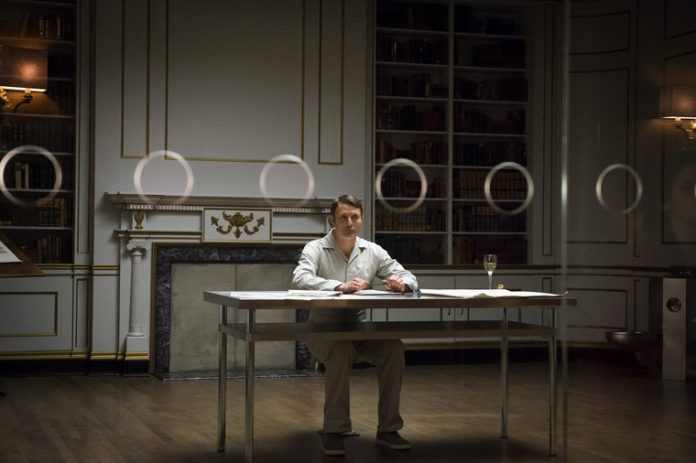 Episode 8 of NBC's psychological thriller, Hannibal introduces a new villain in the form of Francis Dolarhyde also known as "Tooth Fairy" or the "Red Dragon".
In the last episode, Hannibal Lecter surprisingly surrendered himself willingly to Jack Crawford. He was locked up at Baltimore State Hospital for the Criminally Insane.
For the upcoming episode entitled, "The Great Red Dragon," a time jump of three years will see the characters encountering Dolarhyde for the first time. He is said to be a menace who stalks families and murders them afterwards in the hope that his acts will allow him to transform into his alter-ego, the Red Dragon.
Jack will once again seek the help of Will Graham to help hunt down and catch Dolarhyde.
Entertainment site Cartermatt noted that it will be interesting to see how Will adapts to a normal life after he escaped with Hannibal from the clutches of Mason Verger.
Following the incident that both Will and Hannibal experienced together, some reports claim that when Jack asks the former to help with Dolarhyde's case, it may not be to directly investigate the crime but to consult with Hannibal.
Jack seems to think that Hannibal and Will have mutual affection for each other. If this comes to fruition, a Latin Post report suggested that this will set Hannibal's betrayal in motion as he plans to destroy Will's personal life.
The report added that episode eight goes back to the original story created by novelist Thomas Harris predating the events in critically acclaimed film, Silence of the Lambs by seven years.
In addition to Dolarhyde, played by guest star Richard Armitage, viewers will also see Will's wife Molly portrayed by Nina Arianda. Jean Chorostecki and Rutina Wesley who will play Freddie Lounds and Dolarhyde's love interest Reba McClane respectively, will appear on next episodes.
Episode eight premieres on Saturday, July 25.