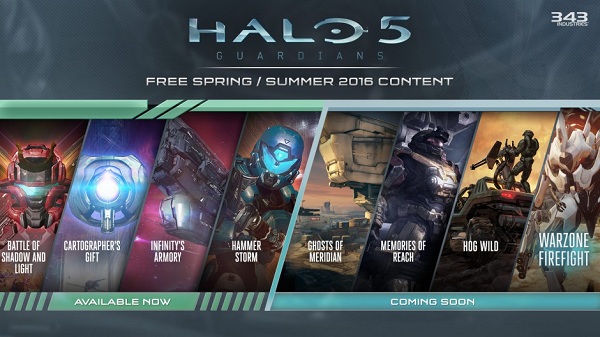 Developer 343 Industries recently rolled out its "Halo 5: Guardians" Hammer Storm update, and with it, a sneak peek at what's coming to the game in future updates. In the update's launch trailer, the developer teased the upcoming Warzone Firefight mode.
The developer shared the Hammer Storm trailer (below) on "Halo's" official YouTube channel. The latest video featured Grifball and Assault, two new game modes that are included in the update. It also showed new weapons, a new armor, and new arenas.
However, the interesting part begins where viewers might think the video ends. At the 1:10 mark, 343 Industries teases "Halo" fans with the arrival of the co-op survival mode Warzone Firefight later this year.
The Warzone Firefight mode was first seen in "Halo 3: ODST" from developer Bungie. The multiplayer mode was also included in "Halo: Reach" from the same developer. However, Warzone Firefight was not in "Halo 4."
343 Industries announced the new mode in Xbox Newswire, along with details of the Hammer Storm update.
"The new mode, called 'Warzone Firefight', will bring PvE to Halo 5: Guardians multiplayer and let players battle together against common foes (and truly show off their custom Spartans to boot!)," 343 Industries said. "That's all we'll say for now, but trust us, we can't wait to tell you more about Warzone Firefight in the coming months."
The developer also said that Warzone Firefight will be among the many modes, maps, vehicles, weapons, and REQs that are set to hit the game through future content updates over the next several months. As can be seen from the image above, 343 Industries already has a number of content updates lined up. After Hammer Storm, the developer plans to release the Ghosts of Meridian, Memories of Reach, Hog Wild, and finally, Warzone Firefight updates as part of its goal to "continually transform" "Halo 5: Guardians."