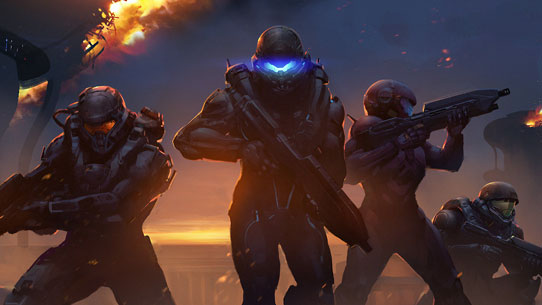 In the upcoming Halo 5: Guardians, one of the things that have changed is the fact that Master Chief is no longer a one-man-team in every fight, as game developer 343 Industries now focuses more on a four-player co-op gameplay, with either having three friends playing alongside the main player, or just three computer-controlled supports fighting alongside a single player.
In an interview with the Official Xbox Magazine (via Games Radar), 343 Industries studio head Josh Holmes talked about the game's new co-op mechanic, how it came to be, and more about the new Halo.
Apparently, the idea for the four-player co-op started by the time of Halo 4. "We were winding down on Halo 4 and thinking about moving to a new console, and we had already planned some of the technological upgrades that we wanted to make to the engine," said Holmes. "And early on we started talking about the types of stories that we wanted to tell and the experiences that we wanted to create, and we really wanted to focus on a much more sociable experience, especially in our campaign."
This gave birth to the squads in Halo 5the Blue Team led by Master Chief, and Fireteam Osiris led by new character Agent Locke.
"I think co-op has always been a big part of Halo's campaign, but in the past it's sort of been treated as a completely separate experience, where you just have three other clones of the Master Chief running side by side," Holmes said.
"The narrative breaks down. One of the big creative goals that we had for Halo 5 was to bring that into focus and support it through the story."
In a separate interview with GameSpot, Xbox Head Phil Spencer also talked about the future of the entire Halo franchise, and his expectations from it.
"I don't want to overplay or overuse the franchise," he said. "It's a franchise and an IP I expect to be around 20 years from now, much the same way Star Wars and Spider-Man and other things are. I think it has the weight that it can support that, but I think that the franchise then needs to be managed in a way that doesn't burn it out."
Halo 5: Guardians comes to the Xbox One on October 27.