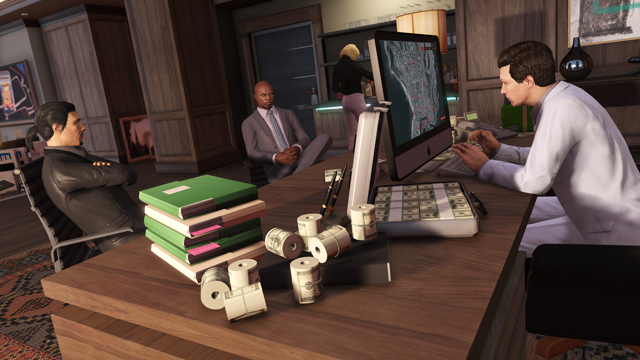 Rockstar Games has announced that the latest expansion to its "Grand Theft Auto Online" ("GTA Online") game will be released on June 7. The expansion picks up at the player's mission to become Los Santos' criminal big boss.
It will allow players buy, sell or even steal contrabands around Los Santos' massive map. Of course, while players keep a low profile to avoid Los Santos Police Department's attention, they must fight off competition from other crooks who are at the same time climbing up the criminal hierarchy.
As the player's money from the game grows, so do their properties. One can buy warehouses around the city to hide their precious cargoes or even a high-rise office building.
Aside from the "Further Adventures in Finance and Felony" expansion, another upcoming addition to the game is what Rockstar calls "cunning stunts" where crazier stunts from "stunt-ready" vehicles are geared up. However, Rockstar is not giving any details yet for this new addition.
Speaking of vehicles, there are several additions to it as well including the sleek Pegassi Reaper.
In addition to the two mentioned updates, Rockstar is also planning to put up additional features to earlier updates like new arenas for the In and Out Mode and the upcoming Adversary modes. The company is also set to add more team-based modes to the game for a more fun and competitive gameplay.
In and Out mode is one of the features added via the previous updates where one team of attackers is challenged to get eight packages while it is being defended by heavily armed defenders.
Rockstar is also planning to come out with a single player downloadable character mode for the "Grand Theft Auto V" but it's still under consideration. With the massive success and the huge profits coming in from the multiplayer platform, it appears that Rockstar will prioritize the latter in the meantime.
Rockstar also announced that an official trailer will be released sometime this week.