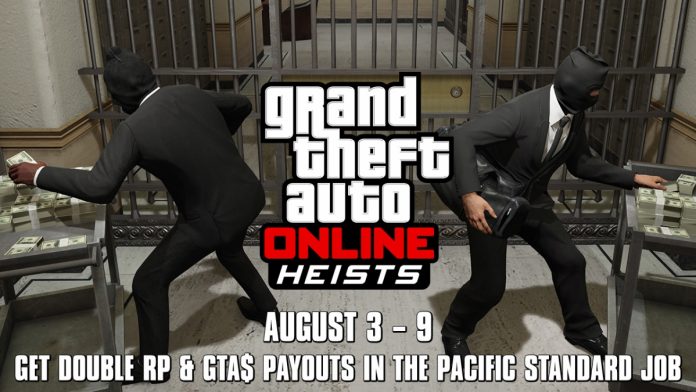 Rockstar Games is treating its players in GTA Online Mode of "Grand Theft Auto V" from August 3 to August 9 with offers of doubling the amount of their RP and GTA$ in "Pacific Standard Job."
For gamers who have done the heist before, Pacific Standard Job is the big Kahuna. The maximum payout will be $3.3 million, with members of the team getting close to $1 million each. RP Heist Grand Finale will also run the entire weekend.
The Pacific Standard Public Deposit Bank heist includes invading the flagship Downton Los Santos branch. It also needs the effort of an entire team. Stealing a motorcycle, terminating Merryweather convoy, saving signal expert and known fugitive Avi Schwartzman, splitting the team between Decoys and Transporters, stealing more equipments along the road and switching vehicles to lose the trail are required.
Essentially accomplishing an epic raid, the team should be divided into three roles: hacker, demolition and crowd control. Using the pickup button continuously, players may get $1.25 million payout that will be doubled due to the promo. If they can complete the Elite challenge under 10 minutes and 15 seconds, they get additional $100,000 or $200,000 after the payout if no one gets killed while surviving NOOSE enemy, iDigitalTimes shares.
On Rockstar's Newswire page, other activities gamers can accomplish to avail additional RP includes: "Deathmatch: Finish in Top 3, Run Over and Kill an Enemy Using a Vehicle; Missions: Not Losing Any Lives Bonus; Races: Clean Lap, Fastest Lap, First for Whole Lap, Get Into 1st Place, Overtake Player 5 Times, Overtake Player 10 Times, Slipstream for 5 Seconds; Simeon Car Export Requests; Stunt Jumps; Survival: Enemy Kill, Vehicle Destroyed"
Moreover, the studio will also have some items at a discounted charge which will have daily pricing schedules for the multiplayer mode probably to entice players more to keep on coming back to the game.