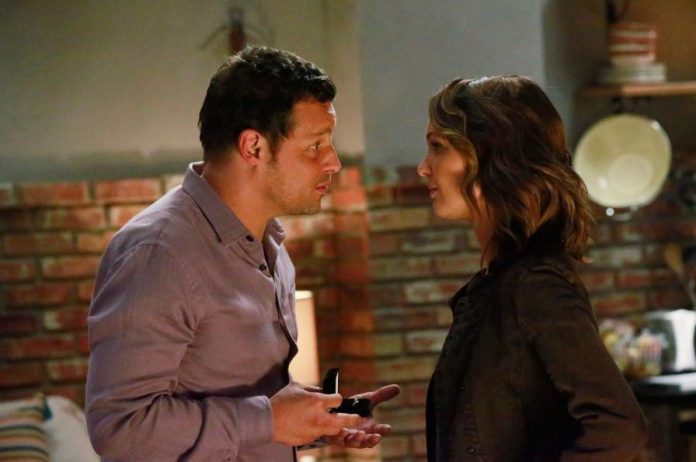 The first promo clip for "Grey's Anatomy" season 13 has been released, and the video hints that Alex (Justin Chambers) might be heading to jail after beating Andrew DeLuca (Giacomo Gianniotti) within an inch of his life in the season finale.
The promo opens with a scene from the finale which sees Alex punching Andrew as Jo (Camilla Luddington) screams in the background. Andrew appears to have been seriously hurt by the beating as he is seen bloodied and lying on a stretcher. The doctors attend to him, and his eye seems to have been injured as well. Maggie (Kelly McCreary) asks who did this, and later, Meredith (Ellen Pompeo) is seen confronting Alex, saying, "You think nobody's going to realize this is you?" and "You can go to jail."
Alex looks resigned as he tells his best friend, "You gotta turn me over." Later, Andrew has a seizure while he is being treated for his injuries.
Based on the clip, it looks like there is the possibility that Alex could spend some time in jail. It's also likely that Andrew's injuries are extremely serious, and he's in danger of dying.
In the season 12 finale, Jo turned down Alex's proposal for the third time, and Alex couldn't understand why. At a bar, Jo told Andrew and Maggie that the reason why she was refusing to marry Alex is because she is still married to a very influential and abusive man. She has been in hiding for years, and she's only doing this to protect Alex.
Andrew took a drunk Jo to her home, and while she was getting ready for bed, Alex walked in and assumed the worst of the situation. Andrew tried to explain, but Alex started punching him in the face.
In an interview with The Hollywood Reporter, Gianniotti said that season 13 will begin after the beating, and Jo must decide whether to tell Alex or not that she's already married.
"Because Alex misinterpreted the situation and beat DeLuca so badly, he's going to have a lot of legal consequences to deal with," said the actor. "Jo has got to decide whether she wants to use this opportunity to finally come clean to Alex about her past or if it's just too great and she'll keep burying the secret."
"Grey's Anatomy" season 13 premieres on Thursday, Sept. 22, at 9 p.m. EDT on ABC.